Marketing maven Ky Dele shares what it means to be a 'Made Man'
Ky Dele is the CEO of the Blueprint Global Group and founder of The Made Man, a national initiative acknowledging and honoring the achievements of Black male community leaders while building a bridge to empower achievement for underserved men. This professional powerhouse has created a thriving brand marketing and events firm which services corporations, high-profile and celebrity clients throughout Africa, Asia, Europe and North America.
For over a decade, in addition to brand marketing and events, Dele's background includes providing lifestyle management tools for busy individuals and celebrities, providing access to the inaccessible and creating strategic alliances with the most notable luxurious brands to open doors to clients lifestyle needs.
Dele has been busy producing and executing The Made Man initiative in Atlanta, Houston and New Orleans, but she took a few moments to chat with rolling out before her next stop in Chicago.
As founder of The Made Man initiative, tell us what inspired you to create this particular approach to connect  to Black men?
I established The Made Man initiative to address the national and locally-based need to bridge the gap between
"made men" and underserved males. The men honored at the Made Man receptions are successful movers, shakers,
innovators, groundbreakers and game-changers who also understand the importance of reaching back to pull up the
future generations of Made Men. Through The Made Man initiative including the day of service and suit drive the event serves as a catalyst to providing access to tools [for] success that will empower the next generation of "made men."
What does it mean to be a "Made Man"?
A man who is a life-changer with extraordinary achievements in their relative industry. One who exhibits a strong interest in community activism.
How has technology changed the way you approach your work?
Technology has created a tremendous shift with the interconnectedness of the honorees with the digital media platforms. It has opened up communication lines and allows me to stay connected wherever I am and whenever I need to be.
Who or what motivates you and why?
Actualizing my passion for community empowerment and brand marketing. This is part of the reason I established The Made Man.
Favorite quote or words of wisdom?
To whom much is given, much is required
Share how and why you partnered with The 100 Black Men of America.
We share the same vision about how to transform the stage for Black men. The mantra for the 100 Black Men of America Inc. is "What they see is what they will be." As long as we continue to put our amazing men in the forefront and uphold them, I know that the young men will have role models to aspire to be like and ultimately transcend.
Dele's catalog of clients and collaborations is quite impressive, including;
MTV, BET, Tommy Hilfiger, Def Jam, Revolt, Prada, Gucci, Vitamin Water, Ritz-Carlton, Grey Goose, CAA sports, Coca Cola, NFL Players, NBA Players, Bronner Bros, Bentley, Four Seasons Hotel, National Black Chambers of Commerce, National White House Initiatives, National Urban League, Career Gear, Up- scale magazine, Rolling out magazine, Rainbow Coalition , Nicki Minaj, Chris Brown, Magic Johnson, Christina Aguilera, Usher, Neyo, Tyga, August Alsina, Chris Rock, Beyonce, Adam Levine, Dikembe Mutumbo, The Roots, Kevin Hart, Wiz Kid, Kiza Lounge, Roy Jones and so much more.
The Made Man upcoming cities:
Raleigh, North Carolina – May 2017
Los Angeles – June 2017
Philadelphia, – August 2017
Washington, D.C. – September 2017
South Africa – November 2017
Miami – December 2017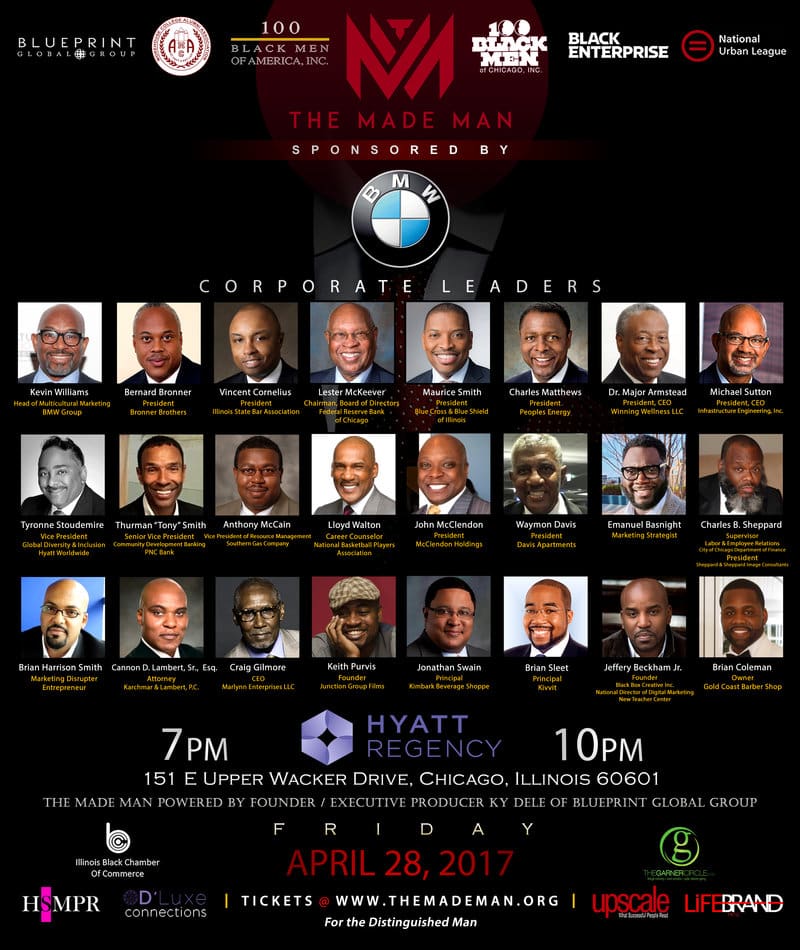 If you are in the Chicago area, go to www.rollingout.com for a chance to win two(2) tickets to The Made Man Chicago Celebrity Charity reception and suit drive, Friday, April 28 at the Hyatt Regency 7-10.
For more information, to purchase tickets, or become a sponsor, visit  https://www.themademan.org/