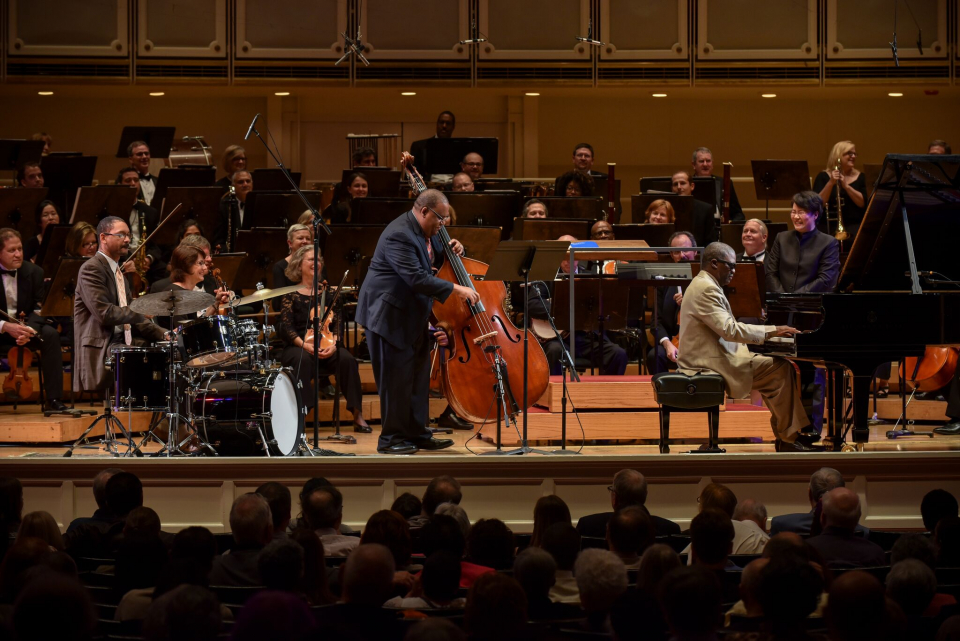 The Chicago Sinfonietta ended their 2016-2017 season with an unbelievable show on May 15 at the Orchestra Hall at Symphony Center and it was incontestably grand season climax. The show's theme, "Rightness in the Rhythm," celebrated a century of the eclectic mix of jazz and symphony.  And what a mix it was!  Melodic tunes filled the the center from the carpeted floor to the curve ceilings and the audience enthusiastically partook of every note with delicious delight.
The concert began with a lyrical version account Scott Joplin's Overture to "Treemonisha," led by guest conductor Deanna Tham, who was originally a Chicago Sinfoneitta Project Inclusion Freeman Fellow for the 2015/2016 season. It was then followed by a cleverly catchy rendition of "Swing Low, Sweet Chariot," directed by the ever charismatic conductor Mei-Ann Chen. Chen also conducted Gershwin's "An American in Paris," which was an exhilarating take on one of this writer's favorite musicals, as well as Bernstein's "On the Town: Three Dance Episodes" that left the audience on their edge of their seats.
Then came the grandest of grand finales: A collaboration with the infamous Marcus Roberts Trio for another Gershwin's favorite "Rhapsody in Blue." Magic ensued as soon as Marcus Roberts sat at the piano. His fingers feverishly ran across the keys and embarked on an ingenious jazz version of Gershwin's classic that perfectly merged the past with the present. After his opening cadenza, he was joined by bandmates John Marsalis on the drums, and Rodney Jordan on the bass, and they created an energetic improvisation of a vintage song that sent the crowd into a frenzied applause, mid-performance. Soon thereafter, the Sinfonietta seamlessly joined the trio and the performance reached a new overwhelming height where they transformed "Rhapsody in Blue" into more than chords, but a feeling. A feeling of euphoria that sent the crowd into a standing ovation at the conclusion of the masterful selection.
Watching Roberts was inspiring; knowing that he's been blind since the age of 5 after losing his vision to glaucoma and cataracts. Yet, he persevered and not only mastered his craft, but became one of the very best in his field.  After witnessing him live and in color, every accolade is well deserved.
It was also delightful to notice a few African American performers from the 2016-2017 Project Inclusion Freeman Orchestra Fellows: Danielle Taylor (viola), Kyle Dickson (violin) and Titilayo Ayangade (Ccello). Project Inclusion was created by the founder of the Sinfionetta to train and mentor emerging music professionals of all backgrounds and this program has produced some of the best musicians in the industry.
Congratulation to Chicago Sinfonietta on a wonderful season and an explosive finale. See a few more pictures from the show below: