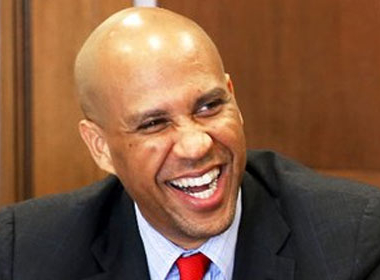 While other Black politicians have expressed concerns with the Trump administration, Sen. Cory Booker, D-NJ, seems to be supporting the embattled president with great enthusiasm. Perhaps one reason for this is that Booker has been receiving campaign funds from Trump's son-in-law and senior White House adviser Jared Kushner.
During Booker's 2013 Senate campaign, he received an estimated $41K from Kushner and donors associated with Kushner. In addition, Ivanka Trump, daughter of President Donald Trump held a fundraiser for Booker during his senatorial campaign. Before that, Kushner donated $20K to Booker's 2009 campaign when he ran for mayor of Newark, New Jersey. Later that year, Booker was a guest at the wedding of Kushner and Ivanka Trump.
So it's no wonder that Booker seems to be in opposition to those who are criticizing Trump and Kushner. This past Sunday during an interview on CNN, Booker expressed that he was opposed to calls for the possible impeachment of President Trump and is dismissive of allegations against Kushner.
Kushner has recently come under fire after revelations that he may have inappropriately communicated with the Russian government. According to media reports, Kushner attempted to create a back channel line of communication during the 2016 election. It was revealed that Kushner met with Russian banker Sergey Gorkov, whose bank has deep ties to Russian spy agency, KGB. The Russian bank is currently under sanctions previously put in place by the Obama administration.
Rep. Adam Schiff, D-Calif., the top ranking member of the House Intelligence Committee, has expressed concern over Kushner's activities and stated recently, "I think we need to get to the bottom of these allegations. But I do think there ought to be a review of his security clearance to find out whether he was truthful, whether he was candid. If not, then there's no way he can maintain that kind of a clearance."
But Booker is opposed to the notion of revoking Kushner's security clearance in the face of overwhelming evidence of Russian collusion and a now pending FBI investigation. Booker stated on CNN, "I think we need to first get to the bottom of it. He needs to answer for what was happening at the time. It raises very serious concerns for me. And that could be a potential outcome that I seek, but I want to understand, at least hear from Jared Kushner, as well as the administration, about what was exactly going on there."
Since Kushner helped to bankroll Booker's various political bids, it is apparent that the New Jersey senator does not want to upset the money flow, especially since he is considering a presidential run in 2020.
,