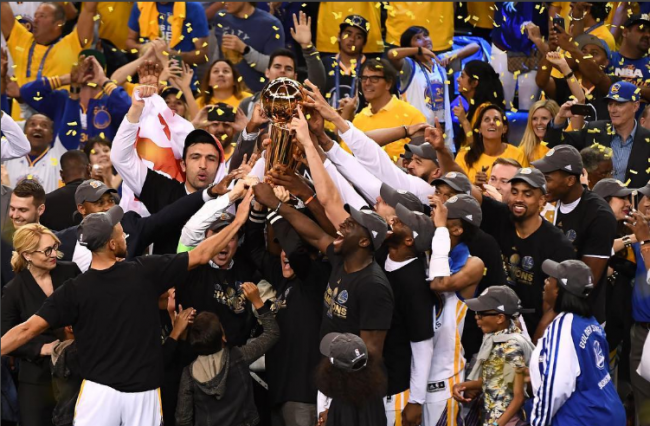 The Golden State Warriors still have champagne dripping from their jerseys after soundly beating the Cleveland Cavaliers in five games in the 2017 NBA Finals on Monday, June 12. Yet they are as widely hated as they are loved because many b-ball fans believe the Warriors stacked the deck by adding superstar Kevin Durant in order to guarantee a victory over LeBron James.
Many more people may fall back into the Warriors' fan camp, however, after word surfaced the NBA champs reportedly won't be making the customary trip to the White House because of President Trump's politics.
Josh Brown of CNBC's "The Halftime Report," tweeted shortly after the Warriors won their second title in three years that the team decided unanimously to skip the traditional championship visit to Washington due to the president's public pronouncements on a plethora of sociopolitical issues.
NBA champion Warriors skipping the White House visit, as a unanimous team decision per reports.

— Downtown Josh Brown (@ReformedBroker) June 13, 2017
"The Warriors will be the first team to boycott a visit to the White House following a championship. After the New England Patriots won the Super Bowl earlier this year, some members of the team skipped the visit, but the likes of head coach Bill Belichick, owner Robert Kraft, tight end Rob Gronkowski and others still attended," TSN reports.
The Pittsburgh Penguins recently won their second Stanley Cup Championship on Sunday and there has been no word on whether or not the team plans to make a trip to the White House.
These same Warriors, of course, visited the White House (sans Durant) for their customary photo op with then-President Barack Obama when they won their first title in 40 years in 2015. If this story, which was also reported by AOL.com, turns out to be true, it will be interesting to see the response from Trump supporters and the White House itself.