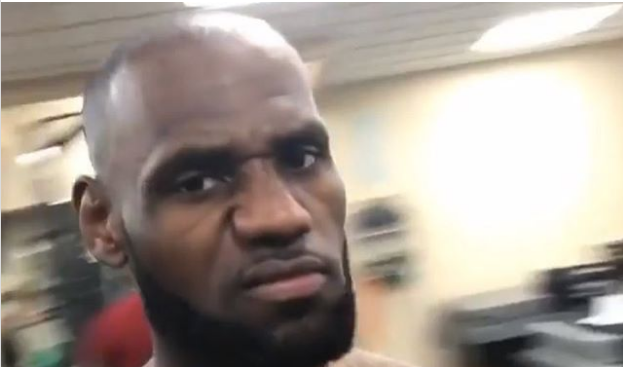 After a command performance at the Golden State Warriors' first championship parade back in 2015, Draymond Green came into the 2017 championship parade in Oakland, California, on Thursday with plenty to live up to. His opening act? A specially designed T-shirt that was discussed on social media:
Look at Draymond's shirt! ? pic.twitter.com/m8TWqwxI4c

— SB Nation (@SBNation) June 15, 2017
Talking about Draymond Green's shirt. pic.twitter.com/Zl6Oznc2UR

— ⓂarcusD (@_MarcusD2_) June 15, 2017
Yep, that's right: the All-NBA power forward and Defensive Player of the Year finalist hit the Bay on Thursday wearing a blue shirt that read "QUICKIE," with the "Q" bearing an awfully close resemblance to the logo of Quicken Loans — the company owned by Cavs owner Dan Gilbert, and which gives its name to the downtown Cleveland arena in which the Cavs play their home games.
Source: Draymond Green had rush order of shirts printed today that say "Quickie" using the "Q" from Quicken Loans Arena logo. @Cavs @cavsdan

— Vince Slomsky (@vinceslomsky) June 9, 2017
"Well, the Q — that's what those guys' arena's called," Green told CSN Bay Area's Ros Gold-Onwude. "And we got 'em outta here quick. With the trophy. Quickie."
Tell us how you really feel, @Money23Green. #WarriorsParade pic.twitter.com/kGQz6LhTcO

— NBA on TNT (@NBAonTNT) June 15, 2017
Green admitted the design was his idea and that the shirts were actually produced in Cleveland, confirming a report that briefly made some waves last week:
Gold-Onwude noted Green's close relationship with Cavaliers star LeBron James. The two recently appeared together in "The Shop," a half-hour-long video produced by Uninterrupted, the multimedia platform for athletes co-founded by James in 2015 to give fans the "uncut, unedited version" of what their favorite athletes are thinking. (Green has also appeared on Uninterrupted's "Kneading Dough" show, and hosts his podcast, "Dray Day," though the Uninterrupted network.)
Despite their business relationship, though, Green wasn't about to pass up an opportunity to pour salt in the Cavs wounds after beating them in five games, thus gaining a measure of revenge for Cleveland's seven-game victory in the 2016 NBA Finals — and for how LeBron celebrated once he got home.
LeBron I'm gonna let you finish, but Draymond Green had the best clap back t-shirt of all time. #WarriorsParade pic.twitter.com/obvlicQkpH

— Sports Polls (@SportPoIl) June 15, 2017
"You know, I can't forget the Ultimate Warrior shirt last year from LeBron," Green said. "And, you know, the 3-1 tombstone cookies, and all of that. So I was waiting on this moment. But definitely my guy. That's family."
Gold-Onwude pointed out that waiting nearly eight months to clap back at LeBron was petty.
"I'm petty," a smiling Green acknowledged.
Evidently, so is LeBron — based on his Instagram response: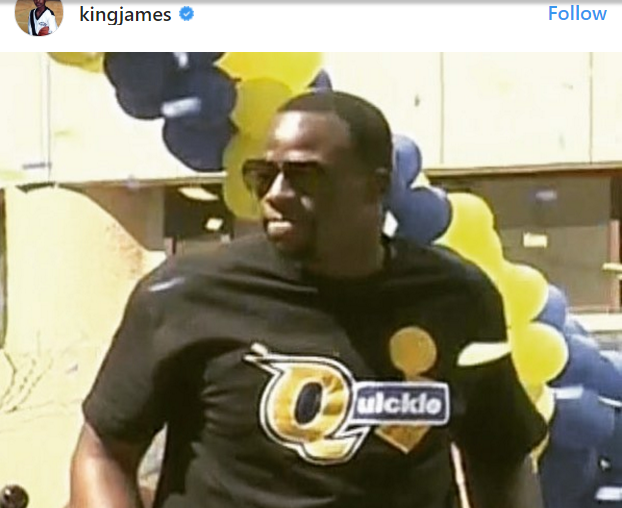 Someone very clearly informed Draymond about this, and he responded in kind, complimenting James on his new summertime haircut: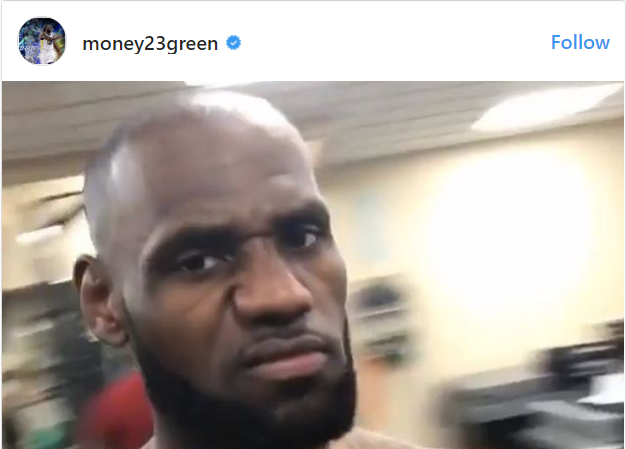 It will be interesting to see where this exchange of insults leads the two in the upcoming off-season and to their next regular season matchup this winter. Stay tuned.