The war continues to wage on between Cleveland Cavaliers' forward LeBron James and Golden State Warriors' forward Draymond Green in a bitter rivalry. Things got heated when former Spartan, Green, clotheslined King James to draw a flagrant 1 foul during Golden State's 126-91 win over the Cavaliers on Monday, Jan.16.
The questionable contact between both all-stars has been met with mixed reactions with some considering the call "a statement" move by Draymond to further establish his lack of respect for James while others, like Warriors head coach, Steve Kerr, minimizing it to just a "normal foul." Twitter lit up debating over whether the call should be a flop by James or a flagrant by Green.
"Was that an incident?" Kerr asked. "Didn't look like it. Looked just like a normal foul. It just looked like a normal foul where guys in transition you want to foul them and take away the fast break. He went down hard and sold it pretty well, but when I'm looking at the replay I might think, 'Oh yeah that was definitely a flagrant.' I haven't seen it so it's tough to assess, but he's a pretty big, strong guy."
Depending on the angle, a quick look at the replay footage points to reasonable doubt as to whether this was just a play that got a little too physical or if Green was trying to drive home a message. This isn't the first time the two titans have clashed. The 6-foot-7 power forward has notoriously run-ins with Cleveland's "Chosen One" before the altercation during the second quarter of Monday's game. Most recently, when the two squads faced off on Christmas Day, there was an outcry over a missed technical foul by the referees against James. The outrage over the technical foul error for "deliberately hanging on the rim" was undoubtedly led by the king of technical fouls himself. At one point, Green racked up a whopping 11 technical fouls in a season.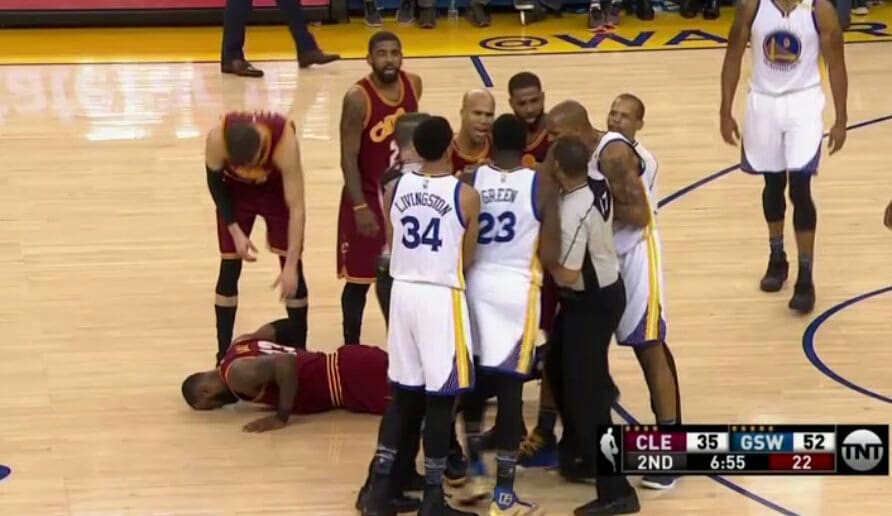 One of the most notorious run ins occurred during Game 4 of last year's NBA Finals when the two became entangled and a shoving match ensued. James threw Green down, stepping over him in the process, which the Michigan State alum took as the ultimate sign of disrespect and countered with a shot at James' groin area. The two exchanged words before resuming the game. The flagrant 1 foul from that incident resulted in Green's suspension for Game 5 and has served as just another gag on Green's highlight reel of groin shots, kicks and other offenses. Much like the brewing rivalry between the Cleveland Cavaliers and Golden State Warriors, the current reigning NBA champion shrugged the whole thing off.
"It happened so fast. I didn't even know who it was," he said. "But I'm all right. I'm a football player." James is equally nonchalant about the rising tension between the two teams. Before the Warriors' ended the curse, Stephen Curry and company suffered four straight losses to the Cavaliers, three of which came during the last three games of the 2016 NBA Finals.
LeBron James breaks silence on heartbreaking NBA Finals loss: 'I promise to get better'
"We don't look at it as a rivalry," James told Cleveland.com. "They're a great team. … It's just the next game, it's Golden State. They're a helluva team, like I said the best team in the league and they've been that way the last three years, four years, however long it's been, I'm not quite sure. But, listen, you guys know, we don't put all our eggs in one basket for one game."
Draymond of course sees things differently and has gone as far as calling out the four-time NBA MVP on what he deems is a lie.
"I don't have much love for the Cleveland Cavaliers at all, nor do I think they have much love for us," the 2015 NBA champion revealed. "And that's what makes it fun to play against each other. That's the true meaning of building a rivalry, which I think this has become a rivalry.  And I think they'll say the same thing and if they don't, they're blowing smoke and they're lying."
Although it may not be as dynamic of a rivalry as that of dynasties like the Boston Celtics and Los Angeles Lakers, the relentless competition to beat the best definitely exists between the two franchises.  Expect the intensity to rise as the showdown between LeBron James and Draymond Green continues. Until the next episode.