Safaree Samuels accuses Meek Mill of jumping him
Safaree Samuels and Meek Mill have been at odds with each other ever since Nicki Minaj left Samuels for Meek years ago. Even though Minaj and Meek have been broken up for some time now, Samuels and Meek still don't seem to like each other and that became apparent again yesterday evening when Samuels claimed that Meek and his crew jumped him.
Yesterday, a fan posted a video of Samuels walking down an L.A. street and then turning and yelling to someone off camera. Samuels, who looked visibly upset, yelled "that n—as such a f—ing p—y" while the woman recording the video can be heard saying, "Safaree just got jumped."
Later on, a video surfaced online of Samuels sharing more details about the fight.
Listen. Straight up I saw Meek, he hopped out, then I just got snuffed. N—as jumped me, a whole bunch of n—as," Samuels claimed in the video. "Meek, you are the biggest p—y on this planet. You saw me, you ain't do s–t, you had your n—as jump me. One-on-one you can't f— with me, so that's why you had to do that."
Samuels then sent a warning to Meek, offering to fight one on one the next time he sees him.
"Y'all n—as jumped me. N—as caught me from the back, n—as caught me from the side. All white, I'm still clean and I still got all my s— on but my n—a the way you move you move like a b—h. You act like you the hardest n—a on this planet. You are not hard my n—a. You roll 20 deep everywhere because you're scared to death. You a b—h. Period. On some real s—. N—a meet me anywhere one-on-one out here while you out here this weekend being scared 'cause you still running from the f—ing Game," Samuels said to the camera.
Meanwhile, Meek continued posting online and seemed to dismiss Samuel's videos as nothing more than falsified drama.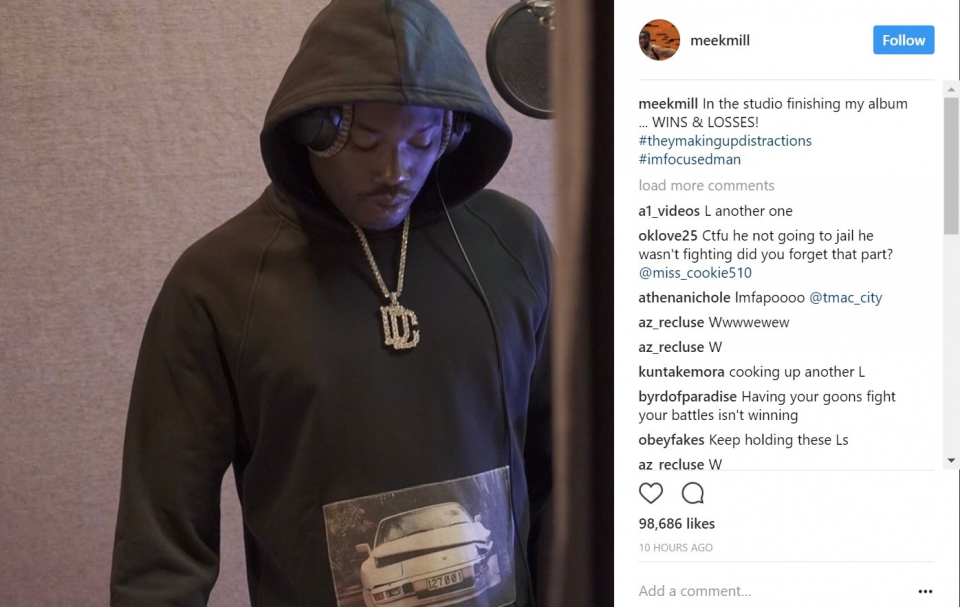 What do you think of the drama? Do you believe Samuels or Meek? Let us know in the comments.