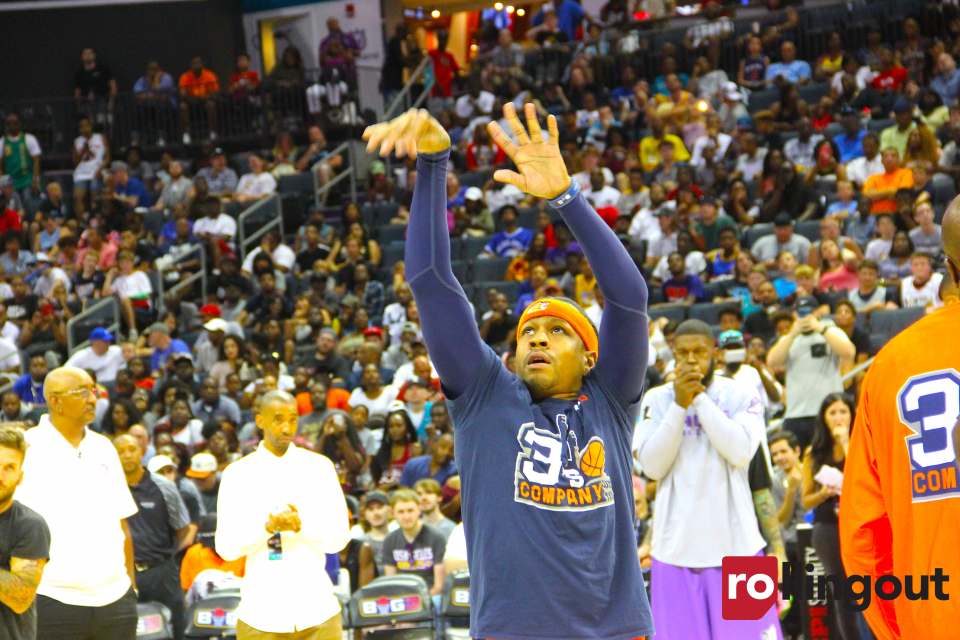 Ice Cube's BIG3 league takes it back to the essence of neighborhood basketball with 3-on-3 hoops. The league, which features several former NBA players, made its way to the Spectrum Center in Charlotte, North Carolina, where week two action took place before a sold-out crowd of over 10K.
Allen Iverson proved to be the crowd's favorite and received a standing ovation when he was announced as player/coach for his 3's Company squad.
"I expected it [BIG3] to be what it had been thus far," Iverson said after his team fell to the Ghost Ballers, who were led by Mike Bibby. "Because of Ice Cube — he's not going to be involved with something and not put his all into it. I knew that it would be something intriguing for the fans to see the players play in a half-court league."
Iverson also revealed that he continues to work himself back into shape and expressed that he no longer has the stamina of his 25-year-old self that once dominated the NBA.
"It's going to take me a minute to get back into it," Iverson said with a smile on his face. "I've been out of the league for about six or seven years. I really think it's going to take me a minute to get my legs back to where I want it to be. Hopefully, this knee [issue] doesn't linger on because of my old ass age."
But while Iverson continues to work himself back into game shape, other players in the league have returned to game form. Al Harrington led Trilogy with 20 points in a victory over Rashad Lewis' 3 Headed Monster; Chauncey Billups scored 15 points and made his debut with Killer 3s in a losing effort to Power, and Derrick Byars scored 19 points for Ball Hogs in a victory over Tri-State.
Notable coaches included Julius "Dr. J" Erving (Tri-State), Clyde Drexler (Power), George Gervin (Ghost Ballers), Charles Oakley (Killer 3s) and Gary Payton (3 Headed Monster).
Notable celebrities in attendance included Big3 founder Ice Cube, LL Cool J, Michael Rapport, and Anthony Hamilton. The tour will head to Oklahoma City on July 9.
Rolling out was on hand to capture all of the action.
View exclusive images below.
Photos: A.R. Shaw