Culinary architect, mixologist and celebrity chef Richard Ingraham, private chef to NBA star Dwyane Wade, this past spring brought "The Taste of Now" to homes around the country.
Here are three flavorful pork recipes that come highly recommended by Ingraham. You can choose from Grilled Ham Steaks with Spicy Teriyaki, Glazed Pork Saltimbocca with Sage, or Sweet Southern Slow-Cooker Ham to serve at any spring celebration.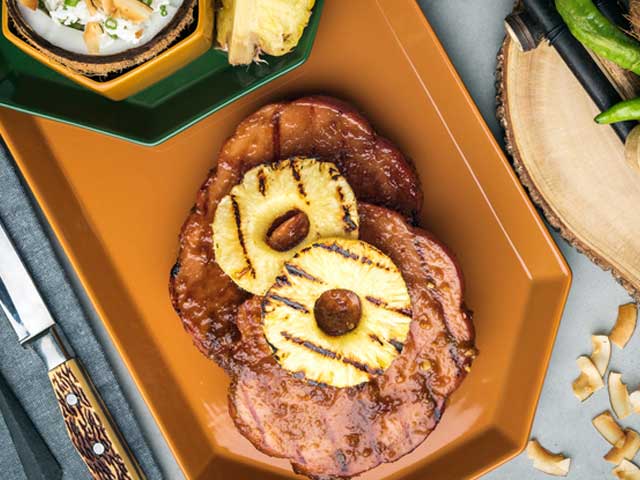 Grilled Ham Steaks with Spicy Teriyaki
INGREDIENTS
2 1-inch thick ham steaks
Spicy Teriyaki Glaze
7 ounces crushed pineapple
6 garlic cloves, minced
1 tablespoon ginger, peeled and minced
½ cup soy sauce
½ teaspoon sesame oil
1 teaspoon red chili pepper, crushed
½ cup brown sugar
COOKING DIRECTIONS
For Spicy Teriyaki glaze
In a small pot, combine all ingredients and mix. Heat and bring to simmer to thicken. Remove from heat and set aside to cool.
Heat grill to a medium high heat or 450°F. Place the ham steaks on grill and sear on both sides, approximately 3-4 minutes each side; basting with spicy teriyaki on both sides to achieve a caramel crust. Remove from heat and serve immediately with coconut rice or your favorite rice pilaf. Garnish with pineapple rings.
SERVES 4
TOTAL PREP TIME 25 minutes
TOTAL COOKING TIME 10 minutes
Glazed Pork Saltimbocca with Sage
INGREDIENTS
2 Ribeye Pork Chops, bone-in (Rib Chop, bone-in), 3/4-inch
4 large sage leaves
4 slices of prosciutto, large & thinly sliced
3 tablespoons olive oil
1 tablespoon kosher salt
1 teaspoon black pepper, ground
2 garlic cloves, sliced
3 cups Portobello mushrooms, sliced
5 ounces marsala wine, sweet
3 tablespoons butter, cubed
2 tablespoons parsley, chopped
2 skewers*
COOKING INSTRUCTIONS
Preheat oven to 350°F. Place two large sage leaves, one on top and one on the bottom of the pork chops. Wrap each pork chop with a prosciutto slice, using skewer to hold in place.
Heat olive oil in a large sauté pan over medium-high heat. Add the pork chops, season with salt & pepper, and sear well on each side for about 2-3 minutes per side. Remove pork chops from pan once golden brown.
Place on a sheet pan and bake in oven for approximately 15-20 minutes, until chops reach an internal temperature between 145°F to 160°F (using a digital thermometer). Heat pan that seared pork chops to medium heat. Add sliced garlic and sauté until golden brown. Add mushrooms. Deglaze pan with marsala wine, add butter and cook mushrooms & stir until they are tender and marsala wine has reduced. Sprinkle with chopped parsley.
Serve with pasta, such as fettuccine alfredo.
SERVES 2
TOTAL PREP TIME 15 minutes
TOTAL COOKING TIME 30-35 minutes
*If using wooden skewers, make sure to soak them in water first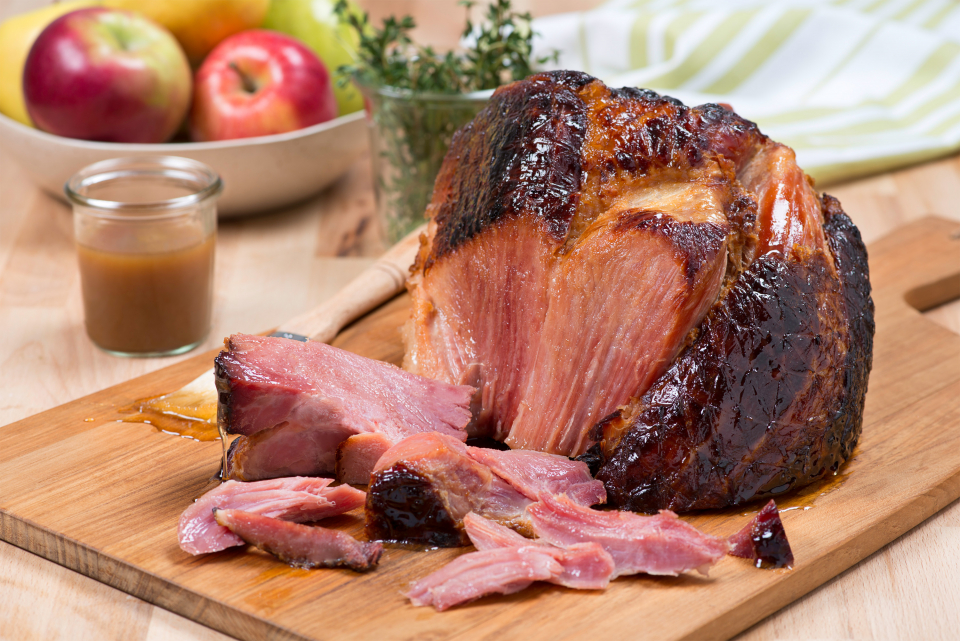 Sweet Southern Slow-Cooker Ham
INGREDIENTS
1 bone-in fully-cooked ham, about 5 ½ pounds
1 cup of apple cider
1/2 cup of dark brown sugar
1/3 cup of Kentucky bourbon, *
1/4 cup of honey
1/4 cup of Dijon-style mustard
4 sprigs of fresh thyme
COOKING DIRECTIONS
Place the ham in a large slow cooker. Whisk the cider with the brown sugar, bourbon, honey and mustard. Slowly pour over the ham. Scatter the thyme sprigs into the slow cooker.
Cook, on high for 4 hours or on low for 8 hours, or until very tender. Remove ham to rest on a cutting board. Pass the remaining cooking liquid through a fine mesh sieve into a saucepan. Simmer for 10 minutes or until slightly reduced. Cut the ham into chunks or slices. Brush the cut pieces with the cooking liquid before arranging on a platter. Serve warm or room temperature.
SERVES 12
TOTAL PREP TIME 10 minutes
TOTAL COOKING TIME 8 hours
*NOTE: For a non-alcoholic alternative: replace the bourbon with 1/4 cup water and 1 tablespoon vanilla extract.
**Cooking tips: Use leftover ham to make Ham, Apple & Cheddar Crepes
SERVING SUGGESTIONS
All the elements of the recipe can be prepared a day in advance and gently warmed before assembling.
Discover more recipes at PorkBeInspired.com.
Ingraham is currently and has been Dwyane Wade's private chef since 2005. The combination of his world-class training, recognitions, and passion for fine cuisine and spirits has allowed him to create a network of private chefs called ChefRLI that serve a plethora of NBA, NFL, MLB, and entertainment personalities as well as corporate clients across the country. Selected for South Beach Food and Wine Festival's "The Best Thing I Ever Ate at the Beach" alongside Wade a few years ago, Ingraham once joined Michelle Bernstein and Michael Schwartz in Michelle Obama's Chefs Move 2 Schools White House Initiative to encourage healthier eating habits among youth. ChefRLI combined its charitable efforts with Beyond the Boroughs Scholarship Fund founder and NFL vet Tutan Reyes to provide healthier eating options to kids in New York City. The Ben and Sarah Gibson Culinary Scholarship was created as a result of the partnership to help high school graduates attend culinary school.