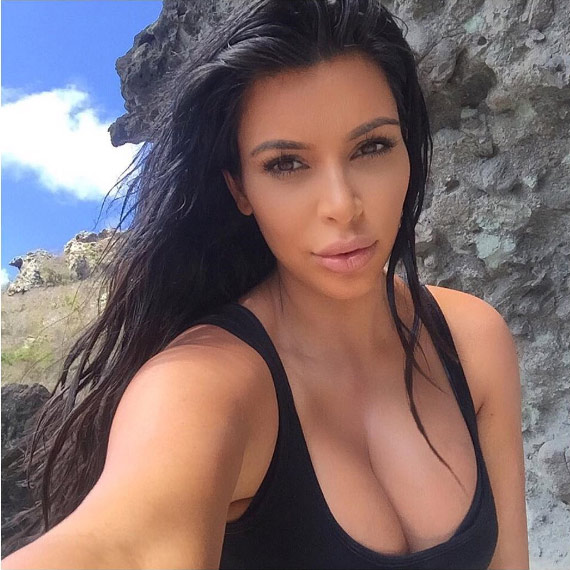 Kim Kardashian vehemently denies that she was caught with the infamous nose candy, cocaine, despite the rather conspicuous double white lines on a table in a recent photo she posted.
The reality star was recently on Snapchat, when she was accused by someone on social media of having cocaine on her table. The person tweeted a photo of the reality star and the alleged illegal substance.
Ohhhhhh @KimKardashian caught out with cocaine .. durtayyyyy pic.twitter.com/ZCnRcpmLSA

— Doireann (@Doirs19) July 11, 2017
Kardashian replied almost immediately, with a trace of righteous indignation in her tweet:
"I do not play with rumors like this so I'm gonna shut it down real quick. That's sugar from our candy mess from Dylan's candy shop."
It has been an inglorious few weeks for the members of the reality show, "Keeping Up With The Kardashians."
The youngest siblings of this infamous clan, Kendall and Kylie Jenner, kicked off the madness when they somehow thought it was a great idea to use the legally trademarked photos of rap and rock legends, superimpose their faces on them, and then sell the images for $150 each. The blowback was as swift as it was brutal. Christopher "Notorious BIG" Wallace's mother was the first to peel the sisters' backsides when she blasted them for using Biggie's and Tupac Shakur's images for their profit without permission. Sharon Osbourne, a talk show host and wife of rocker Ozzy Osbourne, also got in on the national pummeling of the sisters when she went on Twitter to order the girls to "stick to lipstick."
And then, of course, was the colossal Robert Kardashian Jr. meltdown and "slut shaming" of his ex-girlfriend Blac Chyna — as well as engaging in revenge porn — after she allegedly cheated on him with multiple men (or so he says). The scandal was exacerbated when one of the alleged boyfriends posted photos of him and Chyna in bed, replete with the guy wearing the expensive bathrobe that Rob Kardashian bought for Chyna. Even rappers T.I. and Snoop Dogg chimed in on the sad saga by telling Kardashian to accept the fact that he "got worked" over by Chyna, a former stripper, and he needs to move on. Eventually, Chyna and celebrity lawyer Lisa Bloom obtained a protective restraining order, and the lone Kardashian son was left to apologize to Chyna as well as his embarrassed family.