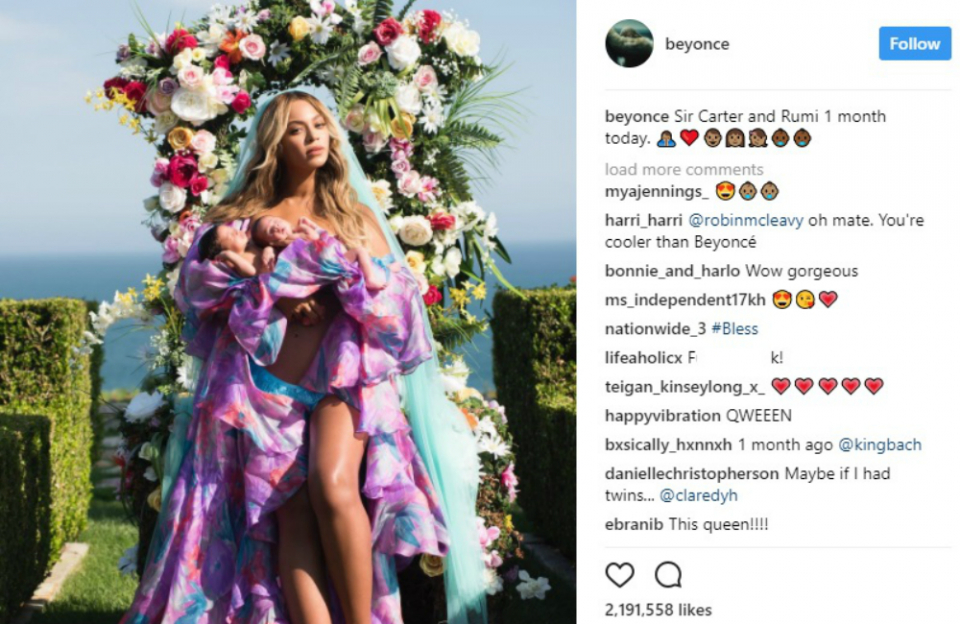 Beyoncé has confirmed the names of her twins, Sir Carter and Rumi, and revealed the first picture of the newborn pair.
The 35-year-old singer used her Instagram account to reveal an image of herself cradling the 1-month-old youngsters, and revealed they are called Sir Carter and Rumi.
Beyoncé wore a colorful dress and ice blue underwear and veil in the picture as she posed in front of a flower arch as her newborn babies rested in her arms.
However, Jay, 47, was nowhere to be seen in the picture.
The image was a reminder of Beyonce's pregnancy announcement which came in the shape of another floral-inspired Instagram picture — in which she was once again wearing a veil.
She wrote: "We would like to share our love and happiness. We have been blessed two times over."
The January post featured the superstar singer clutching her bump while wearing just a bra and blue underwear and posing in front of a huge wreath of flowers.
The picture became the most liked image on Instagram.
Beyonce's latest post comes after Jay admitted earlier this week that his marriage "wasn't totally built on 100 per cent truth."
Jay-Z, who married Bey nine years ago, admitted the "hardest thing" he's ever done is having to face up to potential difficulties in his union and try to work them out.
"This is my real life. I just ran into this place and we built this big, beautiful mansion of a relationship that wasn't totally built on the 100 percent truth and it starts cracking. Things start happening that the public can see.
"Then we had to get to a point of, 'OK, tear this down and let's start from the beginning … It's the hardest thing I've ever done," he said.
Jay's new 4:44 album features an apology to Beyoncé, and speculation is rife that it is a direct reference to her hint of him being unfaithful in her "Becky with the good hair" lyric on her visual LP Lemonade.
In another song, he also appears to reference the infamous Met Gala 2014 incident in which he was attacked in an elevator by sister-in-law Solange Knowles.
He raps: "You egged Solange on, knowing all along all you had to say you was wrong."