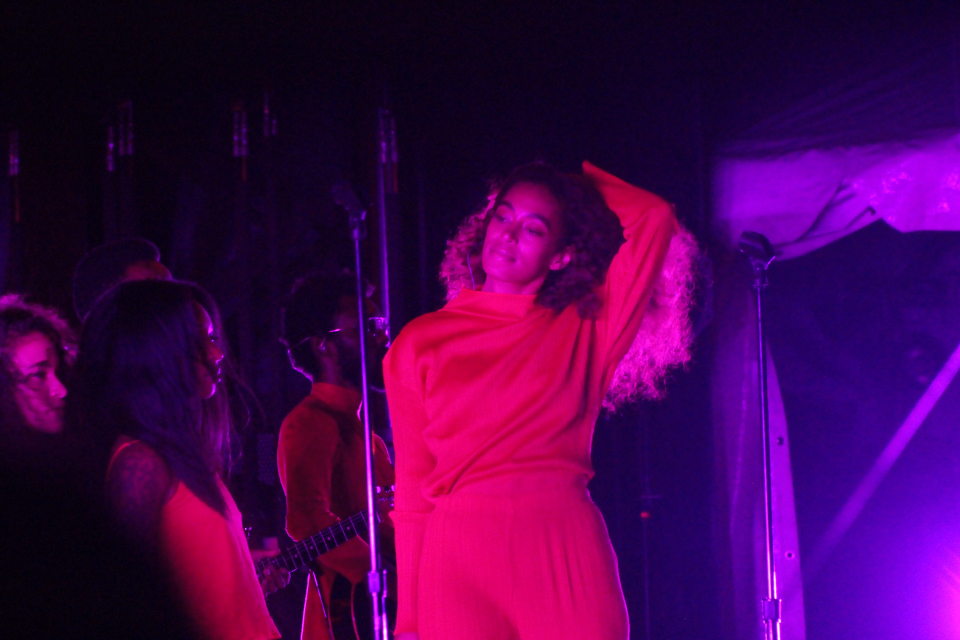 Solange came to Pitchfork with a purpose. As soon as the red lights engulfed the stage, the mood was set and the audience was ready. The beginning of her set had the feel of a libation ceremony, as if a spirit was being summoned. The audience sang along:
"Fall in your ways, so you can crumble
Fall in your ways, so you can sleep at night
Fall in your ways, so you can wake up and rise."
Watching the audience sing along and tune into Solange's spell was mesmerizing. "Cranes in the Sky," Solange's biggest hit to date, was my favorite performance of the night. The vocals on this song are ambitious and to hear her do them live is impressive. She was spot on. This only helped to pull me into this good feeling Solange was creating.
Later on in the show, her horn section made up of about 10 or 11 people kept moving the meter with their energy. The horn section coupled with Solange's singers doing double duty as dancers made for a big party. Solange's care free and energetic disposition makes you want to be there right with her.
She closed out the show with her most revolutionary song "Don't Touch My Hair," dedicated to all the Black women in the audience. Towards the end of the song, the horns joined in and a swell of energy emanated from each note until it felt like a victory. It resembled a release of pain, if only for one moment.
You can feel how pleased she is and how happy she is in the space she is occupying. Solange closed her set saying, "Thank you Chicago. I hope you feel a little bit better than you did when you came."
Her purpose was to make us feel better and she did.
Take a look at a few pics below.