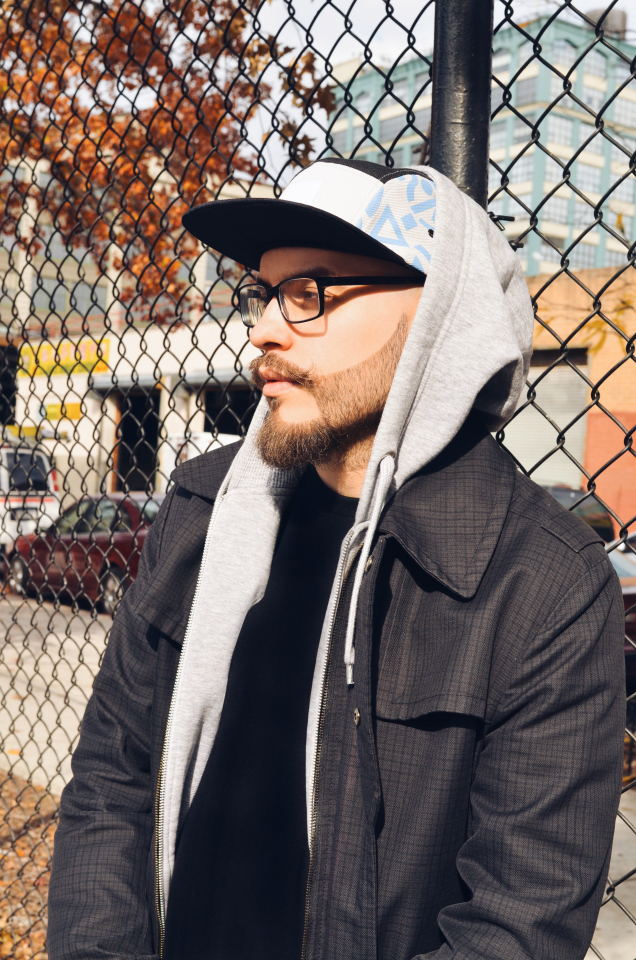 Corona Queens, New York, native born Kon Boogie was born to Cuban parents with the same birthday, so there was synergy before he was even conceived. That synergy has produced a well-liked and -versed music producer and singer who has graced the same stage as Dead Prez, Immortal Technique, Action Bronson, Masta Ace, and Das EFX. His father was an avid collector of old Latin boleros and classic Soul music from the '60s and '70s, which greatly influenced and helped shape KON's musical character.
He said, "I absolutely love what I do. Growing up, I was always that weird kid that didn't quite fit in. Music always came naturally to me and for the most part kept me out of serious trouble. Except for that one time … OK … a couple times. I've been a part of many groups throughout the years and for a long time all I did was production and engineer work while maintaining a full time day job – boring. In 2009, I decided it was enough. I wasn't gonna keep helping others achieve their goals and dreams without doing the same for myself. So here I am, present day, stronger and happier – and broker – than I've ever been. And creating amazing music and art with some of the most talented and innovative people I have ever met. So besides the hardships of being a struggling artist, I'm pretty effen blessed. I pray you enjoy what I do just as much as I enjoy doing it … "
A graphic designer, too, he's created art works for a variety of musicians and businesses, as well as his recently released Spaceships album, which involved designing/creating a digital book as its special counterpart, available for purchase on his website, http://konboogie.com/.
When did you know that being a musician was your calling?
I've always had this connection with music. At an early age, I remember being able to mimic melodies on my cousin's piano. As I got older, that feeling always stuck with me and transformed into what later became a profound love for art in general. It's been one of the only constant things for me. I kind of knew from the beginning that this was going to be a huge part of my life in some way.
How would you describe your brand of music?
I would like to call myself an innovator. But, who wouldn't? I draw inspiration from many different kinds of music and it reflects in what I create. My music is very much spiritual as it is street; simple, yet complex. No topic is really off limits. I consider myself a documentarian of sorts but with a familiarity that most can relate to.
When you are on stage, what do you want to convey about your style?
Mainly authenticity. I believe the performer should give you piece of their soul for however long they're up there, and in return the crowd reciprocates that, and sends their energy right back. I'm just like them, they are just like me. I want them to know they're not alone.
Name three musicians who have influenced your approach to being a musician.
It always changes, but right now…
J. Cole
Chance the Rapper
Anderson Paak
Describe your creative process from concept to complete song.
For me, it's always different. Sometimes I'll work off of a voice note of me singing recorded on my phone [while] half asleep or before bed. Sometimes the beat will inspire a verse or chorus that I'll feed off of to complete a song. And, sometimes I'll just create a composition based off raw emotion and won't stop until it's done and I'm spent.
If you were going to perform for any famous person as a celebration of what they have done for humanity, who would it be?
Hands down it would be Stevie Wonder.
Name three musicians you would like to record with that are hitmakers.
Drake
Jay Z
Pharrell
Finish the sentence:
When you find my music I want you to…
Be transported.
Read more about Kon Boogie here.
Stream his ghostly and current single "When I Grow Up."
https://soundcloud.com/kon-boogie/when-i-grow-up
Escape with him on his conceptual project, Spaceships.
https://soundcloud.com/kon-boogie/sets/spaceships
Link with Kon Boogie on Social Media: @kon_boogie