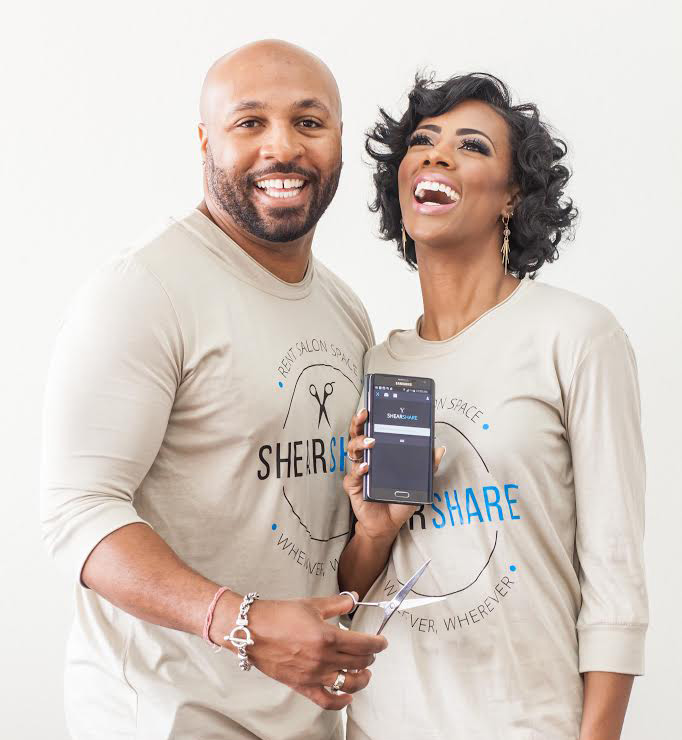 From cornrows to high-top fades, history has repeated itself with the most eccentric styles in the beauty industry. Unfortunately, the talented professionals behind these iconic hairdos have struggled to find and maintain their footing. Power couple Dr. Tye and Courtney Caldwell saw this gap between advancing from the kitchen to the salon and created the app ShearShare, the first B2B mobile platform that allows stylists and barbers to rent salon space by the day. With Tye's experience as a beauty and barber pro for 25 years and co-managing their salon, the duo has seen firsthand the difficulty for aspiring entrepreneurs to establish their work without pricey and long-term commitments from salons. In fact, 80 percent of beauty school graduates won't be in the industry in five years.
But it doesn't stop there. The Caldwells continue to upgrade the app with influential partnerships such as Track, a tax management system for freelancers. Rolling out caught up with the couple to learn all about ShearShare and how beauty professionals can now provide unprecedented service for their clientele on their own terms.
How did ShearShare come together?
Courtney: It was literally a problem we had ourselves. I always say that I kind of married into beauty and have been helping my husband run the family salon. My background is actually in technology marketing, and merging our two talents together has made this app the perfect fit. Tye brings the expertise in all things beauty, and I bring the B2B demand generation and marketing. We expanded our own salon to feature private suites. We found that people didn't want to work here full time. It's been the same way we have been doing it in the beauty industry for decades.
Tye: I had a young lady who approached us about using our dormant space for two to three days. I got to know her, and she asked me what I would charge for a day. It was such a great experience that she asked if we knew any other salons that may rent their space. Being that I was well-versed in the spectrum, I was able to help her get into other salons. We looked for some type of platform that could give professionals like this young lady the help they needed, and it was nothing out there, so we built it ourselves.
What are the biggest struggles beauty professionals face while trying to advance in the industry?
Tye: Well, they definitely want to find the perfect space. The salon was the place people wanted to work based on branding, but now with social media, the individual stylist, barber and makeup artist are the brand, too. Our goal was to create the synergy between the two. Another thing was to make sure they are financially literate when it comes to solopreneurship and entrepreneurship.
Courtney: It's also very difficult to find space to work. Students right out of school are looking to build their business, but oftentimes salons want a year commitment. If new professionals only have two to three clients, we have seen many fall out of the industry because of a lack of resources.
What has the impact been of ShearShare so far? Are there any success stories from users?
Courtney: There is a lady who serves in the U.S. Marine Corps (active duty), but she does hair when she is home. So imagine that kind of schedule. She has no idea when she is going to be deployed, and so it's hard to sustain a long-term commitment in a salon. She uses ShearShare because it gives her the flexibility to build on her passion and even continue it once she retires from service. There are so many other stories like this.
Can you walk me through your partnership with Track and why having access to a pay stub is so important for beauty professionals? Why isn't this something that was already available to beauty pros? 
Courtney: We are coming to the market with a first, and in doing that, we wanted to make sure our users maximize their earning potential by providing the partnership with Track. As a ShearShare user, professionals have access to pay stubs (which has never happened before for freelance stylists). Besides the pay stub, we also give weekly access to a free tax-savings account that we will set up and automated quarterly tax filings. We are pretty much meeting users where they are — on their mobile devices.
Tye: When I got in the industry, it was very hard to go to the bank and ask for a loan to open a small salon or advance in your career. Track creates the written history of a professional's work and is giving people the option to have freedom.
With so many great initiatives, what's next for ShearShare?
Tye: We are looking to be a household name. We are making sure to do our part to give the younger generation the flexibility and autonomy they are looking for.
Courtney: There will also be a few updates to come. We listen very intensely to our users and take their feedback seriously. We want to always build that trust and will continue to provide the best for our audience.
Finally, how are you able to separate the business to maintain a healthy personal life as a couple? Do you have any advice for others?
Tye: It really makes sense because we are both on the same team. With both of us having expertise in different areas, we were able to come together and produce the same synergy. One thing that makes it easy is that I let her run in her lane and she lets me run in mine. We constantly learn something new from each other and are partners, so it all comes together with being married.
Courtney: I'm not surprised more couples are joining together to start businesses. This man is my best friend, and we are constantly doing life together. Because I trust him with all things, the business is just another thing added to the list. There are so many issues with co-founders, and it's not always easy for partners to stick it out for 10-plus years. Me and Tye are in this for life.
This is clearly just the beginning for the dynamic duo. With Tye's recent best-selling book, "Mentored by Failure," and co-owning their salon in Dallas, Texas, the couple continues to strive to uplift their communities in every way. To "rent salon space whenever, wherever," you can learn more on ShearShare's website and follow them on social @shearshare.