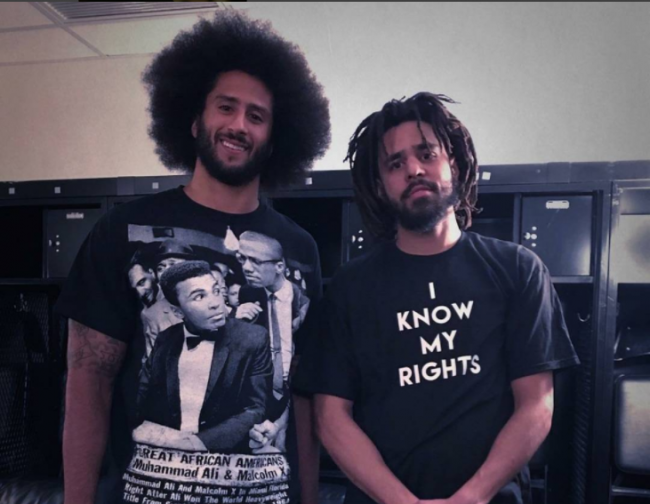 Film director Spike Lee is ready to scale the walls of the NFL on behalf the the league's most maligned and vilified quarterback. He announced Tuesday that he will hold a rally in support of free-agent quarterback Colin Kaepernick at NFL headquarters in New York City on Aug. 23.
The Do the Right Thing filmmaker tweeted the following details regarding the event:
— Spike Lee (@SpikeLee) August 8, 2017
Kaepernick remains unsigned, including being rebuffed by the Miami Dolphins who instead signed the less talented Jay Cutler out of retirement. This was seen as a gesture by the owner that he was repulsed by Kaepernick's decision to kneel during the national anthem in protest of racial inequality and police brutality last season — and it has also contributed to his inability to catch on with a team.
Interest in Kaepernick since the end of the 2016 season has been tepid thus far.
The Seattle Seahawks brought him in for a visit before opting not to sign him, while the Baltimore Ravens recently pondered with the prospect of bringing him on the team before passing on the opportunity.
ESPN's Dianna Russini reported that Ravens owner Steve Bisciotti has been resistant to the idea of signing Kaepernick, but Ravens general manager Ozzie Newsome shot down that report in a statement, according to the Baltimore Sun.
On Sunday, Seahawks wide receiver Doug Baldwin said he reversed his belief about Kaepernick, that he thinks NFL owners are attempting to send a message by not signing Kaepernick, according to ESPN.com's Sheil Kapadia:
"My original position was I thought that the situation last year with him taking a knee didn't have anything to do with it. After viewing what's going on, I've got to take that back. I definitely think that the league, the owners are trying to send a message of, 'Stay in between the lines.' It's frustrating because you want to have guys who are willing to speak out about things that they believe in, whether you agree with it or not. But I think that's definitely playing a role now more so than I thought it was going to."
Kaepernick, 29, went just 1-10 as a starter for the San Francisco 49ers last season, belying his strong statistical production. He threw for 2,241 yards, 16 touchdowns, and four interceptions while rushing for 468 yards and two more touchdowns.
Kaepernick also has six career playoff starts to his credit, including a Super Bowl appearance.