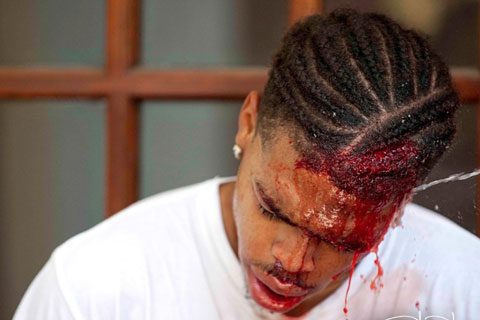 There was a horrific beating in Charlottesville, Virginia, that was captured on video. A group of White racists surrounded and beat an unarmed Black man named Deandre Harris. Harris found himself surrounded by a group of neo-Nazis and White supremacists who punched, kicked and beat him with wooden boards and poles. While he was being beaten there were no police officers around and the media stood there and filmed the assault without interfering.
After escaping, Harris found himself cut, battered and bruised in a hospital waiting room. He turned to the crowd sourcing website GoFundMe for help and wrote the following about his encounter:
"On August 12th, 2017, there was a "Unite the Right" march of white nationalist and other right-wing groups (KKK, Neo-Nazis, and White supremacists) that took place in Charlottesville, Virginia. These individuals were protesting against the removal of local Confederate monuments, primarily the Robert E. Lee Statue in Emancipation Park. I arrived at Emancipation Park around 11 AM as a counter-protester to voice my opinion on racial tensions and to literally stand up for what I believe in. I was only there for a few minutes before I was hit with water bottles, hit with pepper spray, and had derogatory slurs hurled at me.
"Just forty-five minutes into the rally our Gov. Terry McAuliffe declared a state of emergency to aid state response to violence. About fifteen minutes or so after that I was brutally attacked by white supremacists in the parking garage right beside the Charlottesville Police Station. I was chased and beaten with metal poles. I was knocked unconscious repeatedly. Every time I went to stand up I was knocked back down. VIDEO If it was not for my friends that I came with I would have been beaten to a pulp. No law enforcement stepped in to help me.
"Once I was dragged off to some nearby steps I was taken to the designated area for injured protesters & counter-protesters. My injuries were too extensive to be treated at the scene so I was taken to the ER at Martha Jefferson Hospital. I was diagnosed with a concussion, an ulnar fracture, and had to receive eight staples in my head. I also have a laceration across my right eyebrow, abrasions on my knees & elbows, and a chipped tooth. I'm so blessed to be alive to tell my story and to show the world that racism is very much still alive.
"The funds will be used to pay for my medical bills. I appreciate the support from my friends, family, and the news platforms that have reached out to check on me. We will not let this fade & disappear. People are carrying real hate in their hearts for the Black Community and I refuse to just let it happen. God Bless & thank you all again!"
So far, Harris has exceeded his goal of raising $50K and has amassed a staggering $141K toward his bills and the experience he went through. To donate to Harris, go to his GoFundMe page titled "I Was Beaten By White Supremacists."