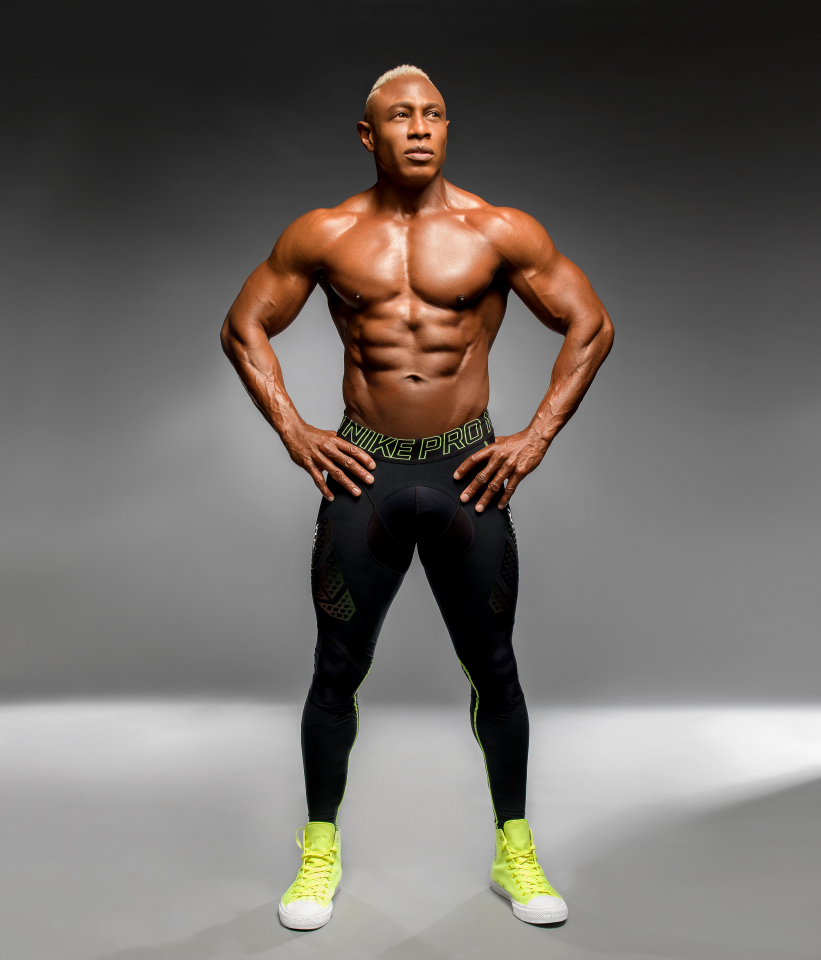 Celebrity trainer Cliff "Hollywood" Boyce tells his story to rolling out in this exclusive interview.
Tell us about your education and training.
I graduated from Prairie View A&M University, where I studied math and computer science and minored in physical education. I also was All-American in track and field. I've always been an athlete and my life's work flows from that commitment to myself to take care of this one body I have — to push it to its optimal limits.
How did you get started in the fitness industry?
My passion for fitness training came from working by the side of health and fitness legends Jack LaLanne and Richard Simmons. The two of them mentored me as I assisted them in aerobics and exercise classes throughout the U.S. I upped my own fitness expertise when I left them to travel internationally with Paula Abdul on her "Get Up and Dance" fitness tour, and then got even deeper into the training journey when I became a professional body builder, competing in and winning various competitions. My personal training certification is significant and I hold an IFBB pro card—the highest honor of a professional body builder. I turned pro in the professional men's physique category.
Who are some of your more notable clients?
I worked with Usher during his Confessions album, when his abs earned him a spot in People magazine's "Sexiest Man Alive" issue. I've also worked with Nicki Minaj, Fantasia, "Real Housewives of Atlanta's" Sherée Whitfield, Melanie Fiona, Sean "The Pen" Garrett and Cee Lo Green, among so many others.
What makes your training style different from others?
I have a commitment to helping people reshape themselves not just physically but also mentally. As a fitness veteran with more than 35 years under my belt, I've made it my mission to teach clients how to change their bodies both inside and out, so my focus is on cardiovascular exercise, strength training, nutrition, fat loss and mental health — helping my clients to change their lifestyles to become — and stay — fit from the inside out.
As a gentleman of a certain age (57), what advice do you have for the population who are members of AARP?
Growing older doesn't mean you prepare yourself to lie down and die. It's when you use all that wisdom you've acquired over the years to do what's right for your body to keep it healthy. You eat better, you exercise, you practice self-care and that makes it possible for you to feel good — to grow older gracefully but also strong. This is when you get up and really live.
What has been the most challenging aspect of the fitness business?
I think the most challenging part of the business is dealing with the business itself. Being in a safe, clean, drama-free work environment is paramount for a trainer, but it doesn't always work out that way. I find that when I focus on the work and changing my clients' lives, all of that gets easier, though.
What occurred to confirm that you have what it took to be successful?
My mother told me I have a gift of changing peoples' lives. This was back when I'd just graduated from college and was doing fitness classes back in Denver. She was a nurse and she saw the devastation that leading a not-so-healthy lifestyle could do to human bodies, and then she would come to my classes and see my clients transforming. She said, "You're really talented. You have a gift." It was something else to have that confirmation from my mother.
Tell us about your upcoming book project.
The specifics are under wraps, but the gist of it will be a combination of my personal fitness journey and how up-and-coming trainers can use my experience and expertise to build their own successful businesses.
Where do you see yourself in the next five years?
My goal is to take all that I've done — the successes, the expertise, and the love that I've cultivated in the gym — to a global audience. I currently work with clients from Atlanta to Miami to Texas to Los Angeles, but I want that reach to be even further, and with the magic of the Internet and social media, I know I can make that happen. I also see myself as a global ambassador for helping generations of people understand that aging doesn't have to come with limitations — that one can be physically strong, healthy and fit no matter the age.