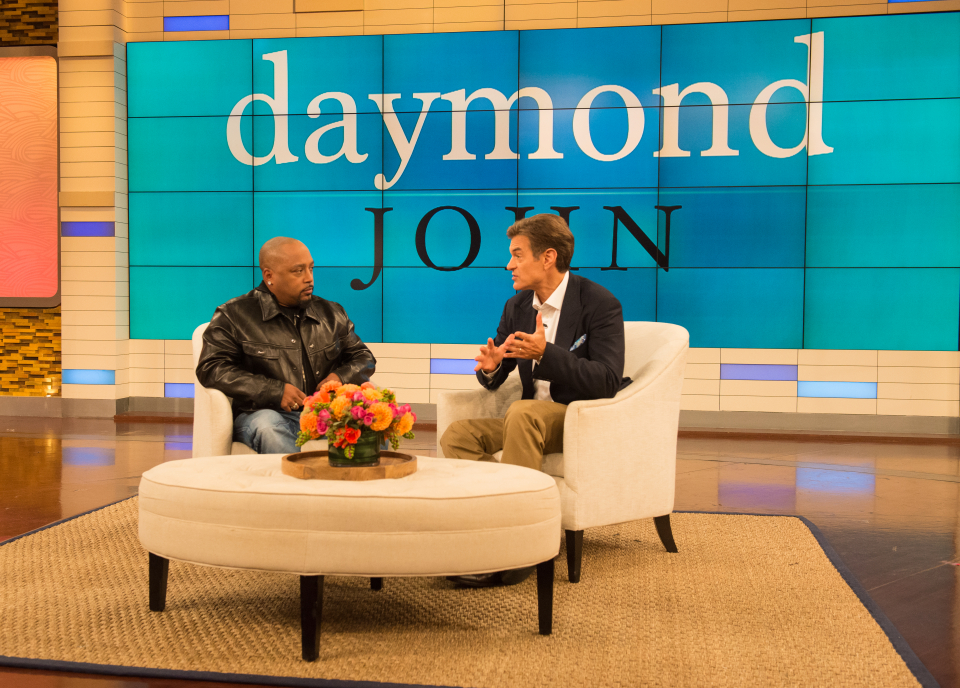 Daymond John, of "Shark Tank," opens up about his battle with thyroid cancer. He shares, with Dr. Oz and the world, his emotional journey and shocking news that completely turned his life around.
Here are the highlights.
Daymond John discussing his purpose to inform the public on their health with Dr. Oz….
"You know, I know it's a touchy subject and a lot of people have lost loved ones to it and are still battling with it. And I didn't want to talk about it at first because I knew I was gonna get the calls all of a sudden, who people–didn't hear the actual story and say, you're dead? No, I just answered the phone, I'm not dead, right? Not yet. But I realized that maybe I had a different purpose in life. You know, they say you're born twice, one when you're born and once when you find out. And I used my voice on a public stage to tell people about early detection and the ways that–what success really is, is your health and being around your family. But if I can save just one person's life 'cause they're gonna go to the doctor and get early detection. Mammogram, pap smears, endoscopies, whatever it is, right? So I realized what my purpose was."
Daymond John advising everyone to take care of themselves with Dr. Oz….
"So what does it make you want to say? What's the message you have for people? It makes me want to say that, you know, we see people who are often suffering; it's too late, right. We try to put our hand in the sand and go oh my god, I hope that never happens to me, but if you go and get early detection, if you think that there is a history of something in your family, if you go get early detection, and if you have–and of course you can elaborate. If you can beat this thing and catch it soon enough then you can be around, right? You know the saying is absolutely, thank you. So, you know, the saying is, you know, a man or a woman with their health has a thousand dreams. A man or a woman without their health only has one. Yes. All right, and success means nothing without your health. So if anybody today goes and just makes their parent, their daughter, their sister, their brother, or themselves go and get a early detection checkup, whatever the case is, that's all I'm here for because entrepreneur's don't take care of themselves. They always say I'll get to it tomorrow. I need the money for inventory. Go take care of yourself."
Tune in Friday September 22, 2017 to hear more of what he has to say!