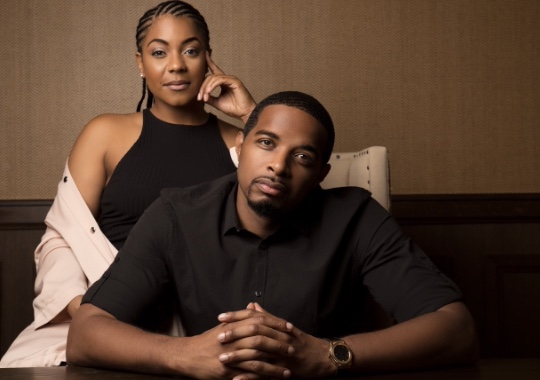 Jay Morrison and Ernestine Johnson have been making waves. As they approach the last leg of their 25-city tour, the Atlanta-based couple is demonstrating against discrimination and taking over street corners offering unprecedented teachable moments and master classes, literally.
On Tuesday, Oct. 17, 2017, they will embark on Washington, D.C. and host their #CornerClass finale at the corner of Martin Luther King Jr. Drive and Malcolm X Avenue SE from 5 to 7:30 p.m. The topic is "Free Real Estate and Business Class."
Following a second call-to-action demonstration that went viral on Friday, Oct. 13 at the Houston's restaurants in the Buckhead (Lenox Road and Peachtree Road) area of Atlanta, Morrison held a #CornerClass in Jackson, Mississippi, on homeownership on Saturday, Oct. 14.
Real estate entrepreneur and mentor Morrison enlightens, "We have been on tour since March 21. We have not only done these 25 cities, but we've done six bonus classes in Atlanta on the corner. We have done one in Tulsa, Oklahoma at the original Black Wall Street site. At the end of the tour, we will have conducted 32 street corner classes."
Johnson, a poet and actor interjects, "We also did a pop-up class at the Essence Festival in New Orleans."
Morrison continues, 'They're all free classes on the corner teaching real estate, entrepreneurship and financial literacy."
When asked about sponsorship dollars, Morrison reveals he has financed this entire "150 grand out of pocket."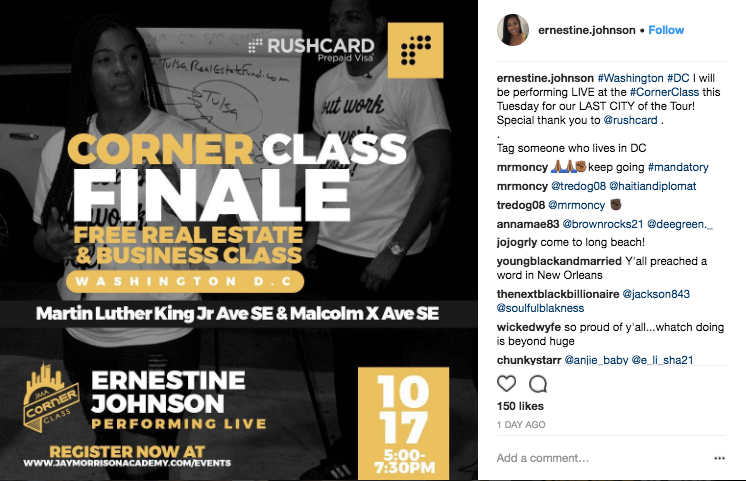 "We know that God is moving in this special time. That's why we get so much respect from the community and why we get big turnouts. People respect us because they see us do the work. We really pour into our people. We really love on our people. It's not just talk, Twitter fingers and celebrity hoopla," he says.
The "big turnouts" that Morrison references is the more than 100 people who showed up with less than 24 hours notice to demonstrate on Saturday, Oct. 7, 2017, following an unfortunate incident where they were refused service at the Houston's restaurant on Lenox Road in Atlanta's Buckhead section. Music's T.I., Tiny Harris, Deb Antney and more showed up to support them because they have witnessed the bias and prejudice shown at both Buckhead locations for this restaurant chain. They mobilized through a #ShutDown text campaign for the following week's event.
He continues, "They see us trying to empower them, repair and stand up for them." He is the chief executive officer and co-founder of Jay Morrison Academy.
Johnson has experienced firsthand the power of social media. Life is imitating art for her. She has a lead role in Terri Vaughn's new film #DigitalLivesMatter.
She offers, "I am super excited. It's one of my first leading roles in a film. It airs on BET on Saturday, October 21. It also stars DC Young Fly, Emmanuel Hudson and Navv Greene. It's completely and 100% Black funded, directed and produced. I was actually a casting director. It's a really powerful statement that the film community in Atlanta is making."
Johnson, a six-year resident of Atlanta was told while in an acting class in Las Vegas by Roger Bobb and Demetria McKinney that she needed to move the southern city and she has no regrets. "Within two months after that meeting, I packed all my stuff and move to Atlanta to pursue my career in acting in film and television."
It's also where she and Morrison met. It was a divine meeting. A then New Jersey resident, Morrison was holding a corner class in Atlanta's Westside community, across from the Busy Bee Café, it was record turnout. He left there and while siting in his rented convertible at the Buckhead Marriott debriefing the day's activity with a colleague, he received confirmation to bring is movement and message to Atlanta.
The way we met was godsend.
Morrison adds, "We are the proud co-founders of the Tulsa Real Estate Fund, which is the first, Black-owned SEC regulated crowd fund, where we can all invest as little as $500 and be equity owners, buy land and boost the morale of our people together. We want to talk not only about our problems but also provide solutions and make sure our narrative is always solution-driven."