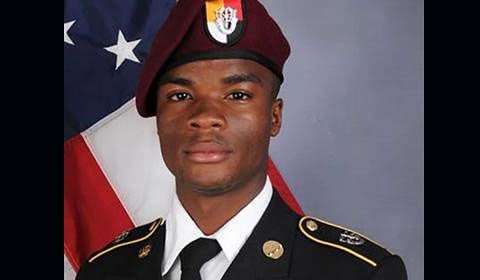 Last week, the US Department of Defense announced the death of four soldiers in the African country of Niger. The soldiers were ambushed with rocket-propelled grenades and machine-gun fire. One of the soldiers killed was U.S. Army Sgt. LaDavid Johnson a father of 2 who was expecting another child in January.
Johnson's body was left behind when his unit fled and it took two days to recover it.  Yesterday President Trump called Myeshia Johnson to express his condolences on the death of her husband but in true Trump fashion, he turned into an insensitive jackass. According to U.S. Rep. Frederica Wilson, D-Fla., Trump had a five-minute conversation with the grieving, pregnant widow and stated about her husband, "he knew what he signed up for … but when it happens, it hurts anyway."
According to a local ABC affiliate, when asked if Trump made that comment an unnamed senior aide responded, "The president's conversations with the families of American heroes who have made the ultimate sacrifice are private."
Since the news of the soldiers' deaths, Trump has been in the hot seat over his late response to the tragedy. Instead of making a statement to the press or calling the families when the news first broke, he went golfing. In addition, he falsely accused former President Obama of failing to write or call the families of dead service members. He even brought up the death of White House Chief of Staff John Kelly's son, who was killed in combat under Obama. Trump initially implied that President Obama offered no condolences to Kelly, however, Michelle Obama was with Kelly's wife and comforted her at a luncheon to honor the Gold Star families and the fallen.
After he was caught in a bold faced lie he tried to clean it up and stated during an interview with NBC's Peter Alexander: "President Obama, I think, probably did sometimes, and maybe sometimes he didn't. I don't know. That's what I was told. All I can do, all I can do is ask my generals. Other presidents did not call. They'd write letters. And some presidents didn't do anything…But I like the combination of, I like, when I can, the combination of a call and also a letter."
Trump has not explained why special forces were operating in Niger, or the nature of the mission when the soldiers were ambushed.