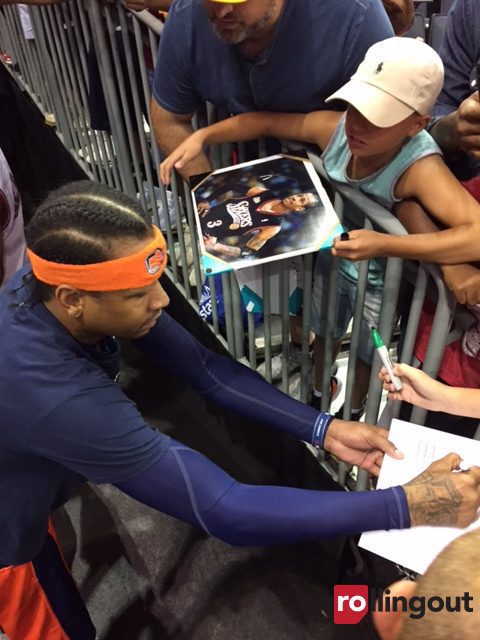 The BIG3 announced Thursday, Oct. 19 that the league is expanding by eight roster spots for next summer's tournament. The announcement came with a list of players and coaches who were returning to the league next season as part of two-year contracts they signed. Allen Iverson nor Julius "Dr. J" Erving was among them.
Ice Cube launched the BIG3 this year with Iverson as the league's most marketable face. Although legendary former players like Erving, Clyde Drexler and Rick Barry coached in the league, Iverson was the greatest recent superstar in the BIG3. He was also a player for his team, 3s company. The first couple of weeks of the tournament, Iverson merely showed shades of the player he once was even in his latter days as a professional. He only played a few minutes the first week and the fans chanted for him to play more Week 2 in Charlotte, North Carolina.
He announced on his Instagram page 20 minutes before the game began in Philadelphia that his doctor couldn't medically clear him to participate in his anticipated, post-retirement return to the City of Brotherly Love. Many Philadelphia fans admitted they were shocked and disappointed that they wouldn't get to see him on the court, but they gave him a standing ovation when he entered the arena as his team's coach.
After a stop in Chicago, Iverson missed the following week's game in Dallas because he was reportedly in an Illinois casino for a span of days. After the league conducted its investigation, Iverson was suspended for a week in what unfortunately became one of the biggest stories during the league's inaugural year.
Former Boston Celtics forward Paul Pierce has speculated about teaming up with Kevin Garnett again and joining the league. Reports surfaced that Tim Duncan was offered and he declined and rumors about Kobe Bryant joining the league remain only rumors. However, it appears as if the league has moved on from Iverson's services.