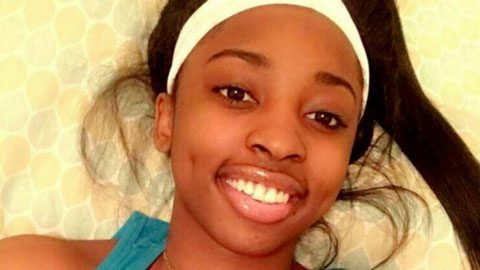 Kenneka Jenkins, 19, was found dead in the freezer at Crowne Plaza Chicago O'Hare Hotel & Conference Center in Rosemont, Illinois, a city 17 miles northwest of Chicago. She was leaving a party held on the ninth floor of the hotel. Surveillance video shows Jenkins staggering through the kitchen near the freezer on Sept. 9. She was alone in the video. Her body was found shortly after midnight on Sept. 10 in a walk-in freezer that was inside a walk-in cooler inside an unused and vacant kitchen.
The bizarre discovery has the Black community outraged largely because no one has been arrested and there are no plans to even charge anyone with her death, which is being deemed as self-inflicted and she locked herself in the freezer.
However, if you're supplied with the crime death scene visuals, you would conclude this is definitely foul play. She's wearing only one shoe. She looks like she was dragged, and possibly assaulted – sexually. Rosemont officials posted the postmortem photographs and the conspiracy theories have escalated.
On Friday, Oct. 20, Rosemont Public Safety Department announced the case has been closed on her death and it's determined to be accidental, saying there is "no evidence that indicates any other conclusion." Sounds strangely familiar to the ruling in the death of Georgia teen Kendrick Johnson.
On Saturday, Oct. 21, a group of protestor gathered outside the Crowne Plaza Hotel demanding answers. More answers are needed.
On the following page is a sampling of the photos from the crime death scene. Warning, they are graphic.