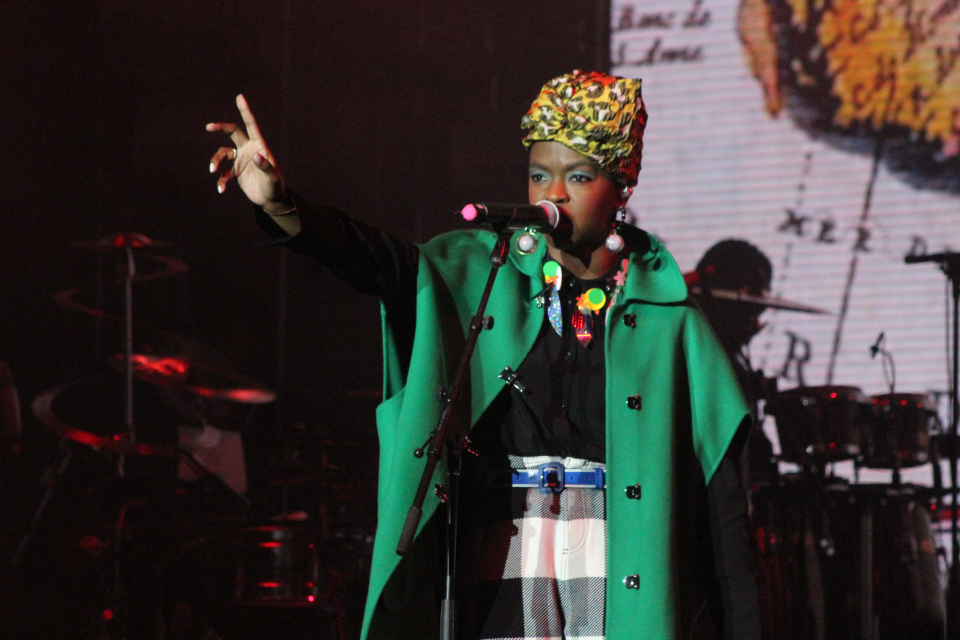 Lauryn Hill showed up, and that's big news. The PowerNomics tour featuring Lauryn Hill and Nas was launched in Chicago recently at the Huntington Bank Pavilion. The cool late summer night brought out a sea of Gen Xers excited to see two of the best lyricists hip-hop has given the world. Scrolling social media the mention of the Nas show drew excitement; however, the elimination of one obvious name did not go unnoticed. Hill has had her share of troubles. Tax issues, jail time and music industry woes have been a thorn in the side of the multi Grammy-winning artist. Showing up late and sometimes not showing up at all for performances have affected fans to the point where it may feel like rolling the dice to buy tickets to one of her shows.
Having Nas as a co-headliner can't hurt your chances of selling tickets because if Lauryn doesn't show at least you got a Nas performance. That was something the fans didn't have to worry about this time. After an amazing reggae filled opening set by Chronixx Nas hit the stage with an excitement that drove the fans berserk. He did a few songs and disappeared off the stage then the backdrop started to fill up with emotionally jarring photos from across the world. One of the photos was of Miss Hill. The anticipation was high. The band played at a feverish pitch until the moment Hill came out and the crowd erupted.
If you are expecting  Hill to perform any of her songs from The Miseducation of Lauryn Hill you will get that, the only difference is that the songs will not sound like anything you have heard from the album. There is speculation that the songs are not performed with their original production because of legal issues. Instead, Hill has opted for rapid fire production laced with African rhythms. The background singers and the band deliver amazing performances as Lauryn blazes the microphone mercilessly. My only suggestion to Hill is that she perform the verse to "Many Mic's" a capella.
Nas returned to the stage to perform "The World is Yours" and "Hate Me Now," and then Hill joined him to perform "If I  Ruled The World." Nas was engaged with the audience while Hill had an issue with the sound while they sang. With that being said, it was great to see these two legends perform some of the greatest songs ever written and it was even greater that Lauryn Hill showed up and showed out.
Take a look at a few pics from the show below.