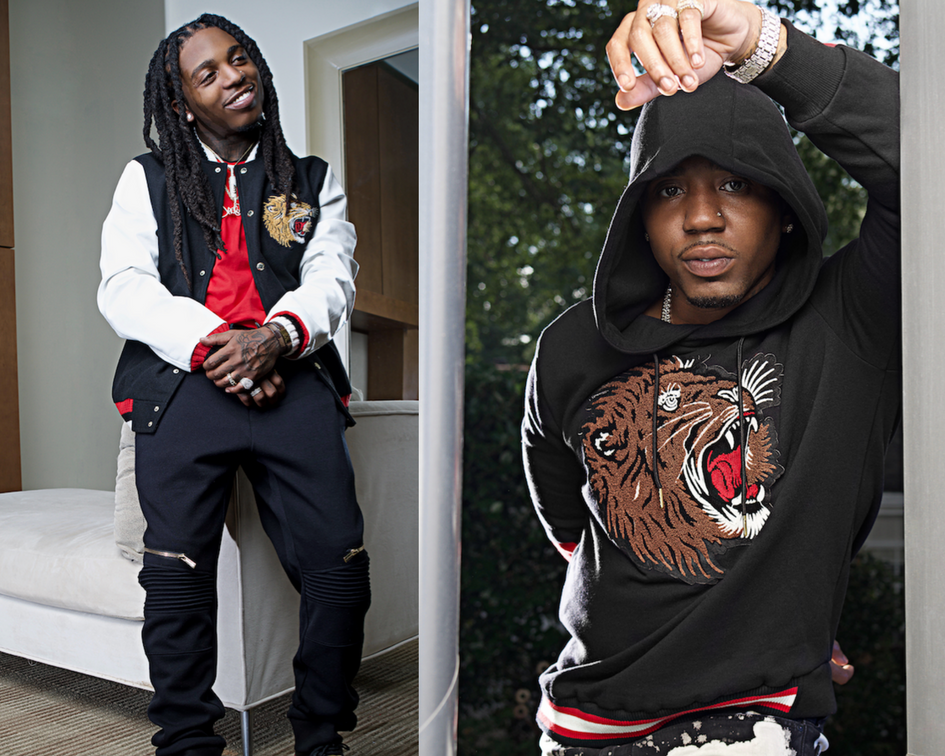 Sean John has stood the test of time in the fashion industry by constantly coming up with innovative ways to connect with each forthcoming generation.  With the Dream Big campaign, Sean John aims to show consumers that any goal is achievable with the combination of hard work, dedication and faith. In an effort to effectively communicate this message to urban millennials, Sean John has named singer-songwriter Jacques and rapper YFN Lucci as the new faces of the holiday 2017 and spring 2018 "Dream Big" campaign
Based on Sean Diddy Combs' mantra "Dream it. Wake up. Do it," The Dream Big campaign organically connects to Jacquees and Lucci, as they both are very familiar with the grind and grit it takes to be successful in the music industry.
When this writer first got the call to conduct the interview, just a few hours before it was scheduled to take place, I instantly became excited to converse with two artists I've had the joy of watching grow in the Atlanta music scene, since my childhood. Jacquees, someone who used to perform at my middle school regularly, and YFN Lucci, who had the halls of my high school buzzing with his mixtapes, had finally made it and I was there to not only record their journey but also to bear witness to their stories.
In a room full of people, Jacquees and Lucci stand out — not because they are the talent, but because they radiate a certain confidence only possible after years of hard work. A confidence that says, "I belong here," paired with an impressive Sean John wardrobe.
What exactly is the Dream Big campaign and what does it mean to you to be the face of it?
Jacquees: The Dream Big campaign is for dreamers. You have two artists [who] are from Atlanta and are dreamers. Me being a new artist and an influencer from Atlanta, I think that's one of the reasons [Sean John] picked me [to be the face]. It's a great feeling because Sean John is a [brand] that I grew up wearing. With this whole campaign, we're showing what fly is, and Sean John is that. I'm a dreamer. I dreamed this whole [career] to life. I'm a person[who] dreams big and I think we just want to show everyone that dreams do come true. I'm a testimony to that.
YFN Lucci: The campaign means to dream big. I come from nothing. I dreamed big and I accomplished what I dreamt. It means a lot to me because I remember when there was a time my mom took me to Macy's and we couldn't afford too much stuff but she would take us Christmas shopping there. Now, when we go into Macy's, my picture will be there, so that's big.  
The Dream Big campaign is based on Diddy's mantra, "Dream it. Wake up. Do it." What does that mean to you?
YFN Lucci: You can have dreams and not believe [they're possible], but you can really do it. For a dream to come true, you have to wake up, grind, and go hard to accomplish your goal and reach your dreams.
Jacquees: To me, that means to go to sleep and have a dream, then wake up and have a vision, and then have the ability to go do it. I tell everyone that a dream is just a dream, but you have to do stuff to go toward the dream and go for the goals. When I used to perform at middle schools, that was me working towards the goal, and it paid off.
How would you describe your personal style?
Jacquees: My personal style is street with a classy element. Like street classic.
Why was it important for you guys to collaborate?
Jacquees: Hip-hop is big because we have a lot of the influencers. We have the ability to influence the whole world. So it's important for us to stand together because we're powerful. We're more powerful together than separate. I'm anti-BS and I keep it cool. I rock with everybody and I think that's how everyone should be.