This past week, a fired up Facebook user named Jan Shedd practically busted a blood vessel in her brain over the voluptuousness of a stunning Black woman on TV news.
After ABC Dallas hired curvaceous and photogenic traffic reporter Demetria Obilor, this disgruntled middle-aged White woman unleashed a social media rant against Obilor. The woman vowed to boycott the station because of the presence of this so-called big Black woman in a form-fitting dress. And since she posted on FB, she obviously wants others to join her.
This is far from the first time that Black women have been body-shamed or ridiculed viciously for flossing natural hair on TV news, or for showing off short cropped hair while doing the weather … or for just basically breathing. Aficionados of history know that body-shaming of Black women goes back centuries, and continues on to modern times — even U.S. senators took time to make fun of former first lady Michelle Obama's backside.
The only time it's acceptable is when the protruding posterior belongs to a White woman like, say, Kim Kardashian. And then it is celebrated and the owner of that derriere makes millions of dollars. But I digress.
Check out Obilor's harsh body critic below:
Jan is big mad. Don't be like Jan. pic.twitter.com/ytAKJHMXBy

— Mother of Draggings (@fabfreshandfly) November 3, 2017
Demetria is a whole seasoned Thanksgiving meal and Jan is mad she's a leftover tuna casserole https://t.co/SK0JiXUgz0

— $am 💖 (@hoodcuIture) November 3, 2017
She's big mad. And Demetria ain't no damn size 18 lmao. https://t.co/oIGswVittn

— wayne (@fergnerduson) November 3, 2017
Let her be jealous I mean mad.. I'm watching channel 8 now, wanna see Demetria do the traffic or anything they want her to do. You go gurl

— 🎧BLADE🎤 (@Jose_DeLaRoca) November 3, 2017
This is precisely how women of color are treated in the workplace wearing the same exact s— the white girls have on. pic.twitter.com/kAhRs0zX9B

— Nik (@HoneyBadger10) November 3, 2017
It is easy to determine that Shedd went off the deep end with something so innocuous and unimportant as someone body type and dress. And Black Twitter wasn't having it. Obilor can't clap back on the air at all her body-shaming racists, so Twitter took the initiative and shredded Jan and her self-righteous indignation and gave props to Obilor's beauty.
Even Chance the Rapper got in on the shredding process:
This my city and no complaints here … I get up faithfully every morning to watch the traffic now. #hateuscuztheyaintus

— aKEMPnameSlickback (@KEMPSAIDWHAT) November 3, 2017
Obilor was so grateful that she posted a video on Twitter to thank her viewing audience, those who defended her body type and supported her skill set, including Chance the Rapper.
Addressing the haters, showing love to my ppl 💗 and thank you @chancetherapper 💯 pic.twitter.com/ks2cTSuLLe

— Demetria Obilor (@DemetriaObilor) November 3, 2017
Later on, after the avalanche of Black Twitter indignation rained down upon her, Jan tried to flip the script on the argument, calling her detractors "racist mafia" in order to deflect that she continues the American tradition of hating on shapely women of color.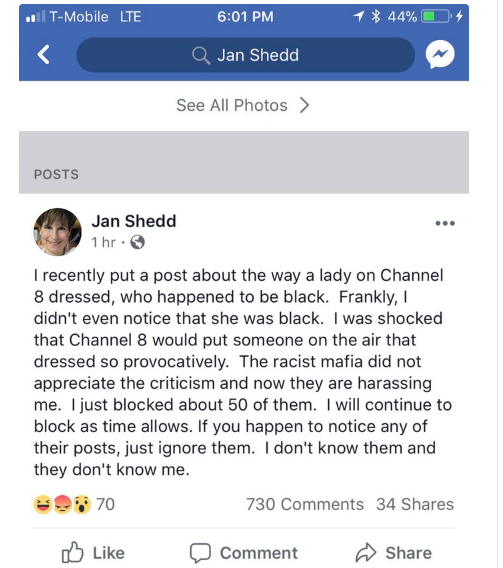 Well, Ms. Shedd, just like one of your detractors said in response to your ridiculous statement that you didn't know that she was black: "Nice try, Jan. And I didn't notice that the sky was blue."