A post-mortem study of the brain of NFL star Aaron Hernandez has revealed extensive damage due to blows from playing football. Hernandez was found hanging in his cell at the Souza-Baranowski Correctional Center in Shirley, Massachusetts. The disgraced NFL star had been acquitted at that time of a 2012 double murder but was still incarcerated for a previous murder. Hernandez was serving life in prison without parole for the shooting death of semi-professional football player Odin Lloyd in 2013.
Hernandez wanted his brain to be donated to medical science in the study being conducted at the CTE Center at Boston University. The center examines chronic traumatic encephalopathy (CTE), a football-linked disease that causes dementia and aggression. Scientists working in the program reportedly gasped when they saw the extent of damage to Hernandez's brain.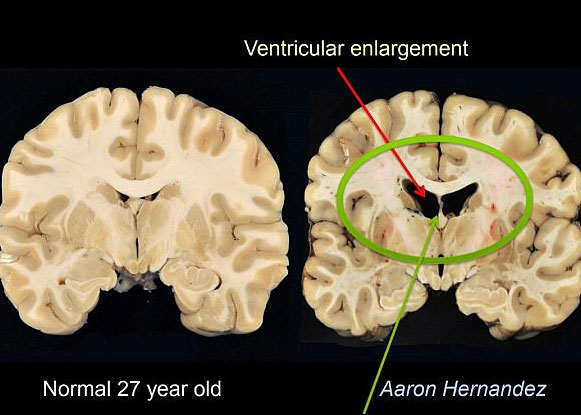 Dr. Ann McKee formally presented her findings this week and reiterated to media that she had never seen such extensive damage to a young brain in her professional career. McKee described severe tissue damage and evidence of micro-bleeding likely caused by impacts to the head. McKee could not confirm if damage from playing football was the source of Hernandez's violent behavior and suicide. However, she did state, "But we can say collectively, in our collective experience, that individuals with CTE and CTE of this severity have difficulty with impulse control, decision making, inhibition or impulses or aggression, often emotional volatility and rage behavior."
The research team at Boston University examined the donated brains of 202 deceased football players that included Bubba Smith, Ken Stabler, Frank Wainright, Dave Duerson, and Junior Seau. The study found that 177 of the brains, about 87 percent, had CTE and that among the brains of NFL players, 110 of 111, 99 percent, had CTE. College football players had the second highest rate with 48 out of 53, 91 percent, diagnosed by the team with CTE.