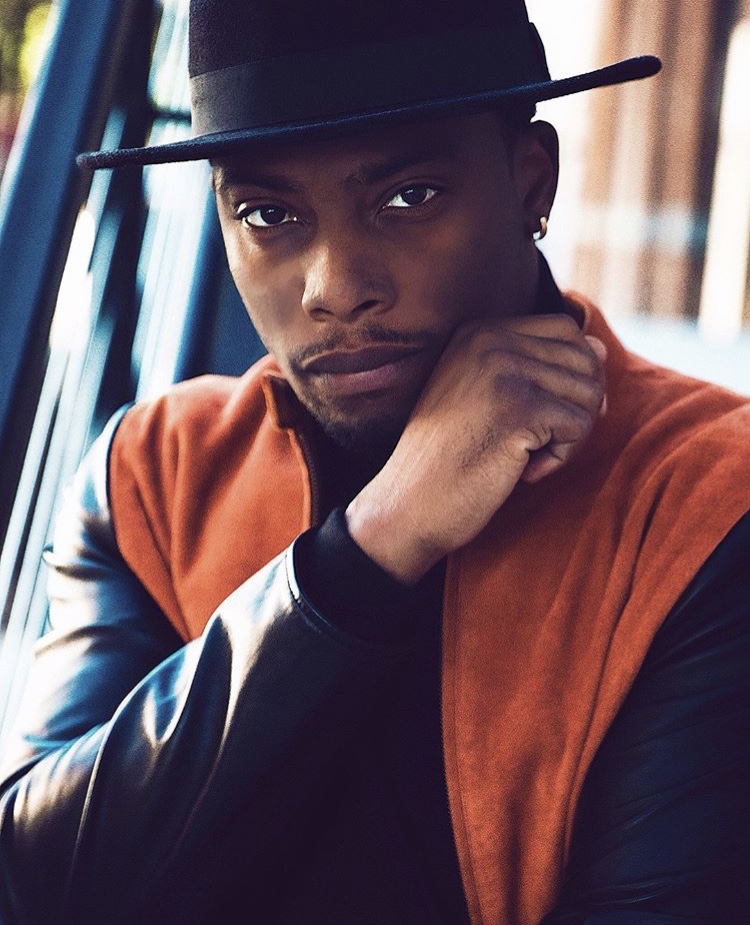 Bound to either leave you in stitches or amaze you with his dramatic acting skills, Woody McClain is one of the leading faces in the "new" Hollywood. Though McClain initially moved to Los Angeles from Jacksonville, Florida, to seek success with a dancing career, having performed with the likes of Chris Brown and Fifth Harmony, acting soon became his forte. After gaining a fan base from posting videos on Vine, McClain was encouraged to pursue acting as a serious career. Although McClain has been featured in Kevin Hart's "Stories with Kev" and BET's "Tales," it wasn't until his breakout role as Bobby Brown in BET's "The New Edition Story" that McClain's talent was recognized by the masses. Now, McClain is getting ready to reprise his role as Brown in the "Bobby Brown Story" along with taking his talents to the big screen in the upcoming movie, Canal Street. Rolling out got the chance to catch up with McClain and find out what's next for this rising star.
On social media, you refer to yourself and your friends as the "new" Hollywood. Explain to us what that is.
I think it's just a new generation. We've looked up to so many legends, we feel like it's time for a new group of kids to come in and leave the same legacy as them.
You were signed to Kevin Hart's production company HartBeat Digital way before "The New Edition Story." What was it like when you first met him? What was your most memorable moment from that meeting?
When I first met Kevin, it was the complete opposite of what I thought. I thought it was going to be all jokes and games but Kevin is super professional and about his business and craft. He teaches us, people coming up in comedy, the game. I really appreciate Kevin. My most memorable moment from Kevin was when he pulled me aside and told me "the only person that can mess up your career is you." That's really stuck with me everywhere I go.
Tell us about "Stories with Kev."
In "Stories with Kev," we take all of Kevin's stand-ups and we bring them to life. We still use his voice but we do reenactments and it's going very well. It could be comparable to Drunk History but with an urban twist.
Even though you're a comedian, you just recently played Bobby Brown in "The New Edition Story." How different was that for you?
Playing in "New Edition" was so different. I've done comedy for so long but [BET] seeing me in that serious element and them wanting me to play Bobby was amazing. It was one of the best experiences I've ever had. It just helped me grow so much more as an actor. Now I book a lot of serious roles [as] opposed to comedy.
What was the greatest lesson that you learned from playing that role?
I think it was just making sure you know your business. The business is hard and people are out for themselves. Just make sure your paperwork is right and you're on top of your money. You don't want to get left with nothing.
What is your main goal and how do you plan on achieving it?
My main goal is to just live life. I'm just living life to the fullest in every way I can. Wherever God takes me, that's where I'll go. I want to tell more stories — real stories. So that's what I'm looking forward to in this industry.
What's your advice for those who aspire to be in entertainment?
No matter where you are right now, I don't care what it is, you can come out on top. As long as you stay true to who you are, stay positive, and stay consistent, you can make it.
What keeps you inspired?
It has to be my friends and peers. I'm surrounded by so many innovators, it helps me stay on my A-game. I love seeing all my friends work and that's what makes me go even harder. I pray I get to the position where I can create projects and hire my own friends, so we can all just work together and have fun. That's the ultimate goal.