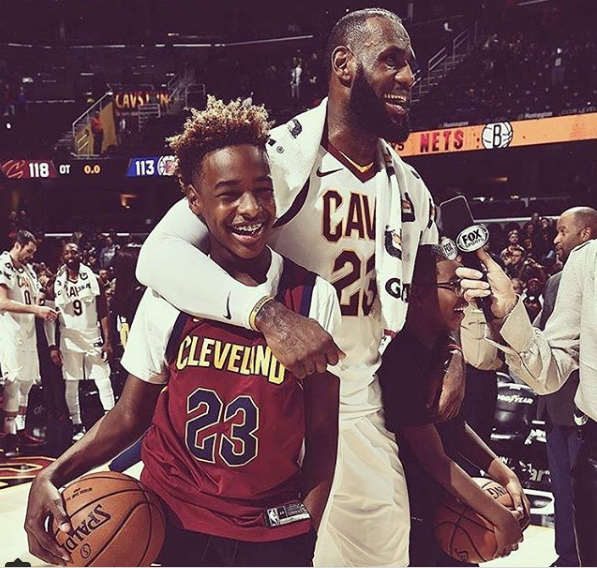 LeBron James says the school he's opening in his hometown of Akron, Ohio, a city near the Cleveland Cavaliers' playing arena, is the most important thing he's done as a professional.
"It is," James said Thursday. "Besides having three kids and marrying my wife, putting my mom in a position where she never has to worry about anything ever again for the rest of her life, this is right up there. Championships, MVPs, I mean, points, rebounds and assists, that stuff is, whatever."
The LeBron James Family Foundation will open the "I Promise School" in the fall for third- and fourth-graders in the Akron Public Schools system who are at risk of falling behind. Education experts often cite this period of time in a child's life where they are at a crossroads and can fall permanently through the cracks if they are not rescued. 
The Akron school board unanimously approved the foundation's plan this week, and James' entertainment company will produce a docu-series on the school's opening.
"At the end of the day this is not Cedar Point," said James, who's known more by his first name these days. "This is a real thing, and we want our kids to have fun while learning. But, listen, we're going to be on them like a school should be because we want them to be successful, not only in the school but successful in life.
"We're gonna give them everything that they need and give them criteria that they all can meet, depending on the individual."
Classes at the I Promise School will start in the summer, weeks before most Akron public schools open, and the school days will go longer. That's because, in part, the children in LeBron's program often come from environments where they could find trouble when the school day is over, or may not find nutritious meals at home. Those two issues — poor nutrition and unsupervised afternoons — are often cited as barriers to education in the inner city.
James said he understands this all too well because he walked these same streets and felt the same feelings the kids do now. As he discussed the actual opening of his school, the depth and enormity of the project seemed to wash over him.
"A real school," he said. "It's unbelievable. For me to be able to open up a school and give back to my inner city, so many kids that I know because I was those kids. I walked those streets and it was just like, 'There's no way I'm going to be able to get out of this situation.' I just thought about that every day. I had dreams and I had mentors and they allowed my dreams to become who I am today.
"People can talk about everything else besides that, but they can never take away what I'm able to do for my hometown and people all around the world. That's what means to me more than anything.
"The basketball thing, I love it and I enjoy it, but to give back and be able to open up a school, that's something that will last way beyond my years."
Watch LeBron talk about the importance of his school below:
https://www.youtube.com/watch?time_continue=3&v=D4q7e0jCxJo