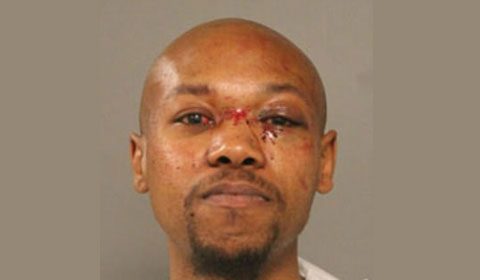 Things got bloody and gruesome on a Chicago bus last week as passengers witnessed a fight between two family members. It all happened on the No. 63/63rd Street bus when Darnell R. Scott, 37, got on the bus and walked past his brother-in-law, 50, whose name has not been released by police. The brother-in-law approached Scott about walking past and not speaking to him and things got heated. According to Assistant State Attorney Craig Taczy, "The men do not share a friendly relationship and hadn't spoken for some time."
According to a police arrest report, Scott's brother-in-law asked him if he had sent men to jump him earlier in the year. Scott allegedly hit his brother-in-law in response and the two soon began a vicious fist fight. The younger Scott got the better of his victim and the fight went to the floor; that's when Scott pulled out a pocket knife and began stabbing and cutting into his brother-in-law. Someone on the bus captured the fight on cellphones and the video shows Scott stabbing his relative at least 25 times and partially disemboweling him. Police stated that the victim received multiple injuries to his abdomen, arms, legs, neck and the back of his head before the bus came to a stop.
According to the Chicago Tribune, the victim was transported to a local hospital in critical condition and Scott was also taken into custody and treated for minor injuries. He was charged with aggravated battery and great bodily harm and admitted to police that he stabbed the victim. Scott recently appeared in court to be formally charged and it was noted that he threw the first punch. As a result, the judge in the case denied Scott bail but ruled he will be able to seek a reduced bond at his next hearing.