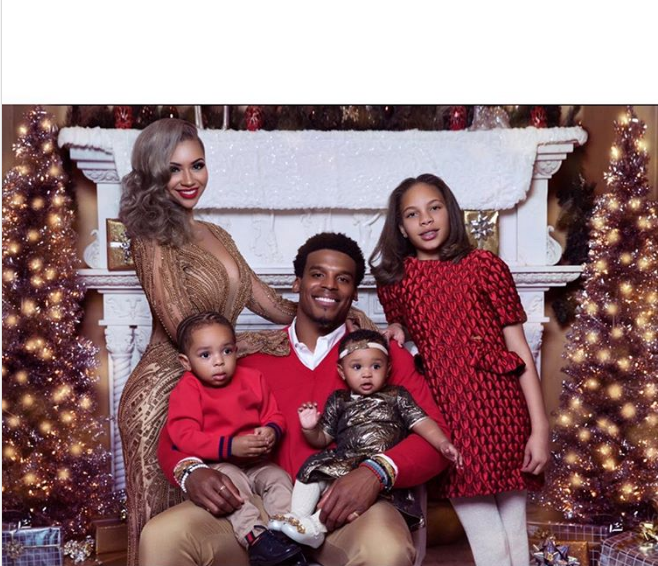 Cam Newton seems to have a gravitational pull on the national media and blogs. The media magnet with the mega-watt personality attracts cameras and pens to whatever endeavor or escapade he's involved in. He's a very willing participant, mind you, with his eccentricities and very flamboyant fashion flair.
There's no controversy in his latest stint. Newton and his beautifully blended family recently posed for holiday photos. The Carolina Panthers' superstar MVP quarterback, 28, his fiancée Kia Proctor, their two kids and Kia's daughter are all in together in the Newton family Christmas card.
The card marks the first time the public's seen Newton and Kia's daughter Sovereign-Dior Cambella, who was born on Feb. 3, 2017, just a little over a year after their son Chosen Sebastion Newton, who was born on Christmas Eve 2015. Proctor also has a daughter from a previous relationship who's seen on the right side of Newton.
Cameron Jerrell Newton, one of the faces of the NFL, has continued his upward trajectory in name recognition, star power and likability — a far cry from a decade ago when this child prodigy very nearly derailed his own promising career.
As a sophomore quarterback at the University of Florida in 2008, Newton was arrested on felony charges of burglary, larceny, and obstruction of justice on an accusation that he stole a laptop computer from another University of Florida student. He was subsequently suspended from the team. Campus police "tracked the stolen laptop to the athlete … Newton tossed the computer out his dorm window in a humorously ill-advised attempt to hide it from cops," reported the smokinggun.com.
In January 2009, Newton transferred to Blinn College in Brenham, Texas, where, in his only season there, he led his team to the 2009 NJCAA National Football Championship, throwing for 2,833 yards with 22 touchdowns and rushing for 655 yards. He returned to the NCAA in 2010, leading the Auburn Tigers to a NCAA national championship victory in his only season there as well. 
Newton was the No. 1 pick in the 2011 draft to the Panthers, set rookie passing records in a game and a season and was easily voted Rookie of the Year. In 2015, Newton won the league's Most Valuable Player Award as he led the Panthers to a 15-1 record, the best in franchise history, orchestrated the league's No. 1 rated offense and earned a berth in Super Bowl 50. Despite losing to the Denver Broncos 24-10, Newton had cemented his status as one of the league's best signal callers and one of the most recognized, albeit controversial, athletes in his sport.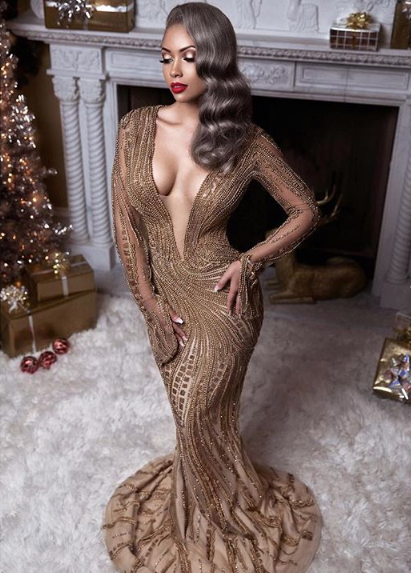 Proctor also shared another photo of her very sexy Vjollca Llapashtica holiday gown. The very photogenic wife-to-be