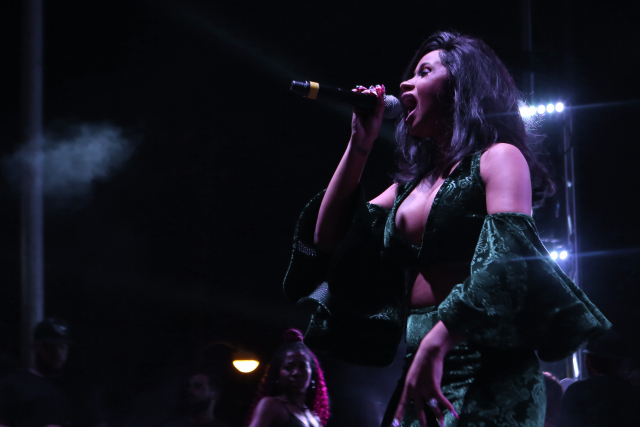 Cardi B has four songs charting in the top 10 on the Hot R&B/Hip-Hop Songs chart for the second week in the row.
The former "Love &Hip Hop" star is featured on G-Eazy's "No Limit," along with A$AP Rocky. "No Limit" hit No. 2 on the chart with "Motorsport" with Migos and Nicki Minaj at No. 3. Her smash hit "Bodak Yellow" is now at No. 5 and her recent single "Bartier Cardi," featuring 21 Savage is at No. 8.
Queen Bey, however, ties with Cardi B as being the only other woman to have four records in the chart's top 10. Her singles include "Formation," "Sorry," "Hold Up," and "6 Inch" featuring the Weeknd. The records made it to Nos. 6, 7, 8, and 10 on May 14, 2016. The singles debuted on the chart the same week the Lemonade album made it to No. 1 on the Billboard 200.
With the Hot R&B/Hip-Hop Songs chart beginning on Oct. 20, 1958, the only other musicians to have charted four songs or more in the top 10 spots in a week include 50 Cent, Drake, Lil Wayne, Kendrick Lamar, 2 Chainz and Eminem. Drake and K-Dot are the only artists to have five records on the chart at one time.
So far this year, Cardi B has been linking with pop artists such as Bruno Mars. The duo brought in the New Year with the "Finesse" remix music video. For all the '90s lovers, the video looks similar to an "In Living Color" or "All That" set.
Cardi B recently discussed her upcoming album in an interview with Beats 1 radio with Julie Adenuga. The collection will include songs about Fashionova, her Bentley, and Steve Madden. "Not everybody care[d] for bloody shoes," she says.
The Bronx, New York, rapper also mentioned that she could make music about dealing with hurt. "I've been hurt by a lot of men. I'm talking about, like, how sad I be when a dude curves me, and I never talk about s— like [that] because I refuse to let people know that I get sad when a man don't answer my calls."