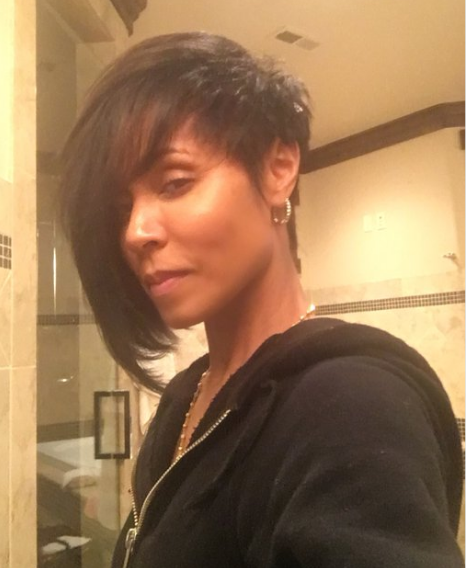 Beloved actress, fashion aficionado and beauty entrepreneur Jada Pinkett Smith must have climbed into Michael J. Fox's Delorean because she went way back to 1989 — in order to step into the new year of 2018.
The Set it Off and The Matrix maven managed a bodacious new mane on Instagram, and the fans love it. Pinkedtt Smith, 46, is blessed with the kind of cranium where can easily stunt with virtually any hairstyle from any era — from a short pixie to cornrows to braids to even a long, slicked back ponytail. And she is beautiful and has proven to be fearless with her hair, so why not? 
The Girls Trip star is replacing a very retro vibe with this look. We have to wait and see if this new style is in conjunction with an upcoming movie role or if this is simply a "new year, new me" look. Regardless, in the opinion of this writer and her fans, she is killing the game. 
And what does her superstar husband, Will Smith, thinks about this one? The Hollywood couple just celebrated 20 years of marriage, and she probably can do no wrong in his eyes regardless, as he so eloquently articulated in his Instagram post dedicated to her a few weeks ago. 
Pinkett Smith debuted the conspicuous, asymmetrical bob with the aid of her hairstylist: 
When my girl helps me resurrect that 1989 Jada! Let me fiiind out Madame Jeuge pic.twitter.com/fvPt0LeY42

— Jada Pinkett Smith (@jadapsmith) January 10, 2018
She also captioned the Twitter post: "When my girl helps me resurrect that 1989 Jada! Let me find out Madame Jeuge."
Pinkett Smith's new hair is reminiscent of her look in 1989 when she sported a similar coif punctuated with her hair flipped on one side of her head. 
The star's husband Will Smith is so enamored with his 20-year wife's throwback look, he can't stop putting her on his Instagram. "I love her new haircut, I had to show y'all," he captioned the Instagram video he posted. Check it out.