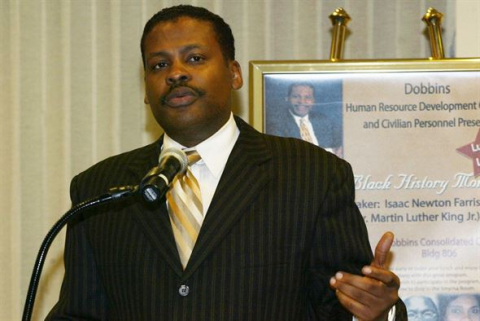 The nephew of sacrosanct civil rights paragon Martin Luther King Jr. said President Trump is not a racist, but that the former reality star-turned-politician is just "racially ignorant."
"I don't think President Trump is a racist in the traditional sense as we know in this country," Isaac Newton Farris Jr. stated after standing beside the president as Trump signed a proclamation that honors the civil rights leader.
"I think President Trump is racially ignorant and racially uninformed. But I don't think he is a racist in the traditional sense," Farris said according to CNN and Yahoo.com.
Farris was asked what his venerated uncle would have thought of the remarks Trump recently made calling African nations "sh**hole countries." Farris answered that he felt King would have disapproved of such comments.
Farris claims that during the meeting that followed the signing of the proclamation President Trump told him, "I'm not the person that the media is making me out to be."
Trump's "s—hole countries" comments are nothing new. According to an NBC News report, a source close to the president said that "he frequently uses that kind of language," even when people around him tell him to stop it.
At a meeting in March, a member of the CBC had to explain to Trump that cutting welfare would affect more than just Black people. Trump seemed surprised to hear that "not all [welfare recipients] are Black."
"Really? Then what are they?" he asked.
NBC News also reported another exchange between President Trump and a briefer in the White House.
"Where are you from?" the president asked her.
When she explained that she was from Manhattan, that answer didn't seem to satisfy him, and it wasn't until he asked where "your people" are from that she said that her parents were Korean.
Trump then told another person in the room that the "pretty Korean lady" should be negotiating with North Korea for the United States.
Of course, these incidents aren't isolated ones and it is easy to see how they could be construed as racist. This isn't even including the fact that President Trump started his campaign for the presidency by calling Mexicans "rapists and murderers." This also doesn't include his Muslim ban or the controversy he created when he retweeted three anti-Muslim videos from the far-right Britain First group.