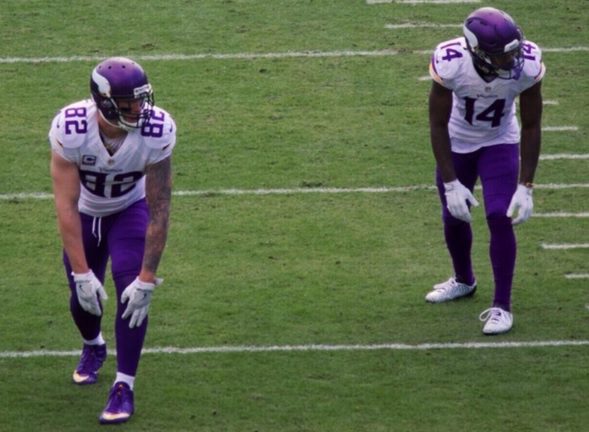 The Minnesota Vikings pulled off a miracle to clinch a berth in this year's NFC championship game. With 10 seconds remaining in the game and no team timeouts left, Minnesota only had time for a quick completion out of bounds to set up a potential game-winning field goal while trailing 24-23 to the New Orleans Saints. Vikings quarterback Case Keenum took the snap, dropped back, surveyed the field and let the ball fly with six seconds remaining. The team's No. 1 receiver, Stefon Diggs, not only snatched the ball with both hands near the Vikings' sideline with five seconds left, he spotted that he had an open field in front of him, he recollected his balance and he sprinted into the end zone as time expired.
"Oh my- you can't, it's unbelievable," Vikings defensive end Everson Griffen said in a postgame interview with ESPN's Josina Anderson. "I'm like- I'm happy. I was sad, now I'm like 'oh my.' Wow. Oh my goodness. I'm shocked, I don't know what else to say."
Before the play, many people wrote off the Vikings and were already predicting a Saints vs. Patriots Super Bowl.
Brady Vs Brees Super Bowl incoming.

— Josh (@LillardHive) January 15, 2018
I'm 5000% down for a Brees Vs Brady Super Bowl this year. #legends #saints #patriots #nflplayoffs

— Sammy Bissett (@SammyBissett) January 15, 2018
Nfl trying so hard to make it a Drew Brees vs Tom Brady super bowl.

— L-Mac (Little Mac) (@LucasMacattack) January 15, 2018
The great part about sports, however, is that the game has to be played until all time is up. The underdogs in Minnesota have succeeded again.
Keenum began this season as the team's third-string quarterback. Regular starter Teddy Bridgewater tore his ACL and nearly lost his leg in 2016 and the quarterback who was acquired last season to replace him, Sam Bradford, injured himself early in the 2017 season. Keenum had a rough 2016 year as a starter with the L.A. Rams, but this season he's looked more than capable of leading Minnesota to victory.
Next week in the NFC championship, Keenum is facing off against another underdog backup. Philadelphia Eagles quarterback Nick Foles is replacing the 2017 MVP-leading candidate Carson Wentz who went out late in the regular season with an ACL tear. Both the Eagles and the Vikings have competed with an underdog mentality all season and next week, one of them will have an opportunity to play for a Super Bowl victory.