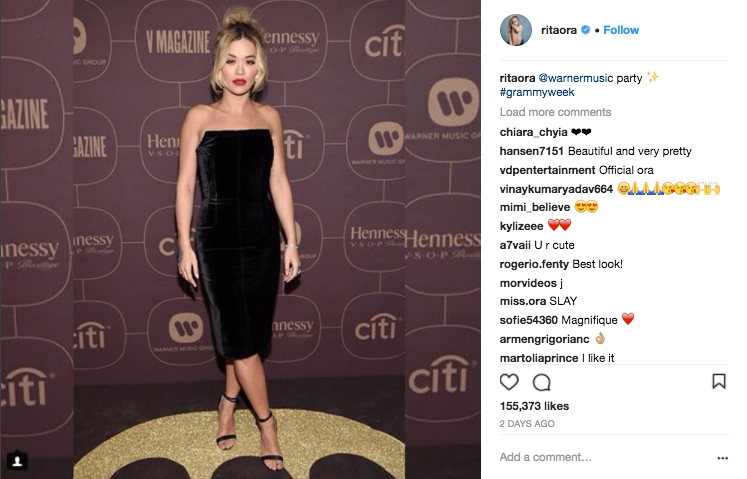 Rita Ora has said women will show "solidarity" against sexual harassment during the Grammy Awards on Sunday, January 28.
The 27-year-old musician is set to appear on the red carpet at the prestigious music awards ceremony in New York City this weekend, and has said that she, alongside many other female artists, will be using their platform to "come together" and make a stand against sexual harassment, in the midst of the ongoing scandal surrounding several Hollywood executives.
The "Your Song" hitmaker said, "We're going to come together as women. I'm wearing a white rose, which represents solidarity with everything that's going on."
Meanwhile, fellow singer Kelly Clarkson – who is nominated for Best Pop Solo Performance at the awards – has said this year marks an excellent year for the ladies, as in her category, the only male contender is Ed Sheeran.
Clarkson, who will face competition from Ed, Kesha, Lady Gaga, and Pink, told the Sunday Mirror newspaper, "It's a good year for women. It's all women – and Ed Sheeran, which is funny."
It comes after Kesha revealed on Twitter earlier this weekend that she was "proud" to be performing her hit single "Praying" at the ceremony, which she penned during her ongoing legal battle with producer Dr. Luke, whom she accused of sexually abusing her.
She wrote, "when i wrote praying, with ben abraham and ryan lewis, i just felt as if i had gotten a huge weight off of my shoulders. it felt like an emotional raw victory for myself, one step closer to healing. I never could have known what would've happened these past few years.
"i just want to say that i needed this song in a very real way, im so proud and nervous and overwhelmed to be performing it at the grammys on sunday, and if you need it i hope this song finds you. (sic)"