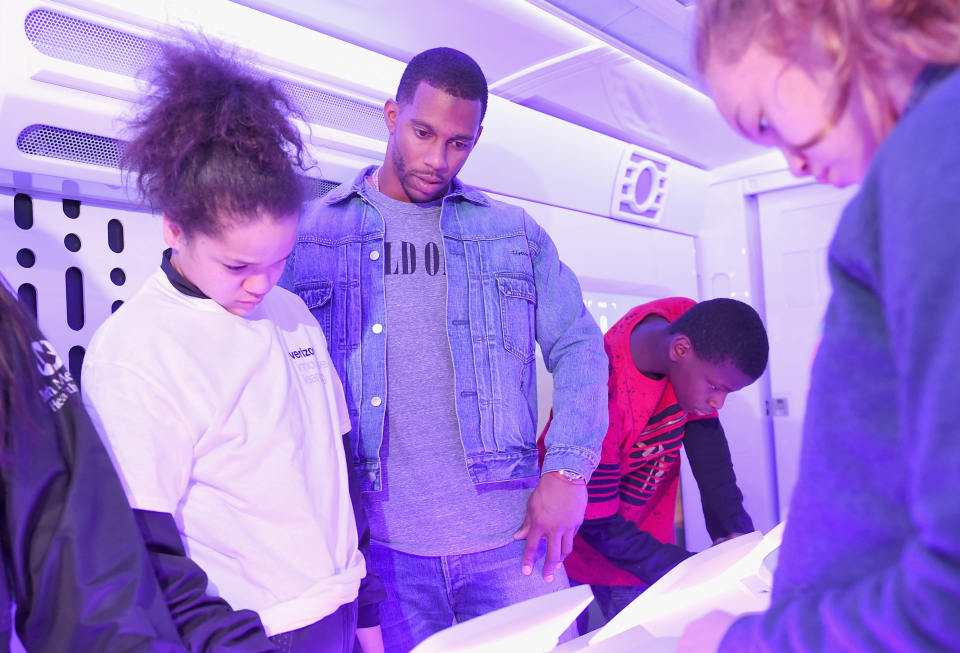 Sports stars Victor Cruz and Karl Anthony Towns surprised a group of students earlier this week in Minnesota. The message that Cruz and Towns sent to the students was that they could be the next generation of stars in the world of professional sports, without even being an athlete.
The professional athletes surprised the students at the new Verizon Innovative Learning explorer lab. The mobile labs contain many tablets for the students to engage in educational gaming in an effort to create an atmosphere where learning about science, technology, engineering, or mathematics (STEM) subjects is exciting for middle school-aged students.
"I didn't even know what that was when I younger," Cruz said in an interview with rolling out. "I didn't know STEM was a thing, I had no idea. We just walked in class, learned science, some teachers would regurgitate something out to us and we learned it, memorized it and tried to pass the test. That was pretty much it for me."
Cruz has focused on STEM programs in his foundation for the last three years through the Boys & Girls Clubs in his hometown of Paterson, New Jersey, as well as a couple of other locations in the Brooklyn, New York area.
Cruz is perhaps the perfect figure to tell the younger generation that career choices go beyond sports. The wide receiver went from being an undrafted rookie in 2010 for the New York Giants to having back-to-back 1,000 receiving yard seasons and a Pro Bowl appearance in 2012. Cruz marketed himself from his salsa touchdown celebration dance and quickly emerged as one of the more recognizable faces in the game. After scoring 23 touchdowns in his first three seasons as a starter, Cruz only scored two touchdowns in his last two seasons with the Giants. The 31-year-old sat out this past season after getting cut by the Chicago Bears in the preseason.
"I'm a person they see [as], 'Yeah, he's been to the top and now this past year, I wouldn't say back on the bottom, but he's been through some experiences that may not be to the best of his liking and now what do you do?'" Cruz said. "'What does he have to fall back on?' So that is definitely a message I preach to kids and let them know that, 'Hey. You've got to have something else to fall back on because football isn't forever. It isn't something that [is] going to last 20, 30 years like some of these other professions do. At some point when you get older, you won't be as fast as you were at 21 years old.You've got to have something else to fall back on.' That's what I encourage — to tell these kids to find something that you like that's outside of a sport and work on that while you're playing, make that your priority as well, because you don't know when your last day will be and you want to be ahead of the curve."
Cruz is also still raising awareness for the relief efforts in Puerto Rico after Hurricane Maria flooded and eliminated power for most of the U.S. territory last fall.
He said that although he's not rooting for either team, he hopes to see the Philadelphia Eagles get its first championship in franchise history at the Superbowl game.