Kiara Lanier talks hair and new EP, 'Tongues and Teaspoons'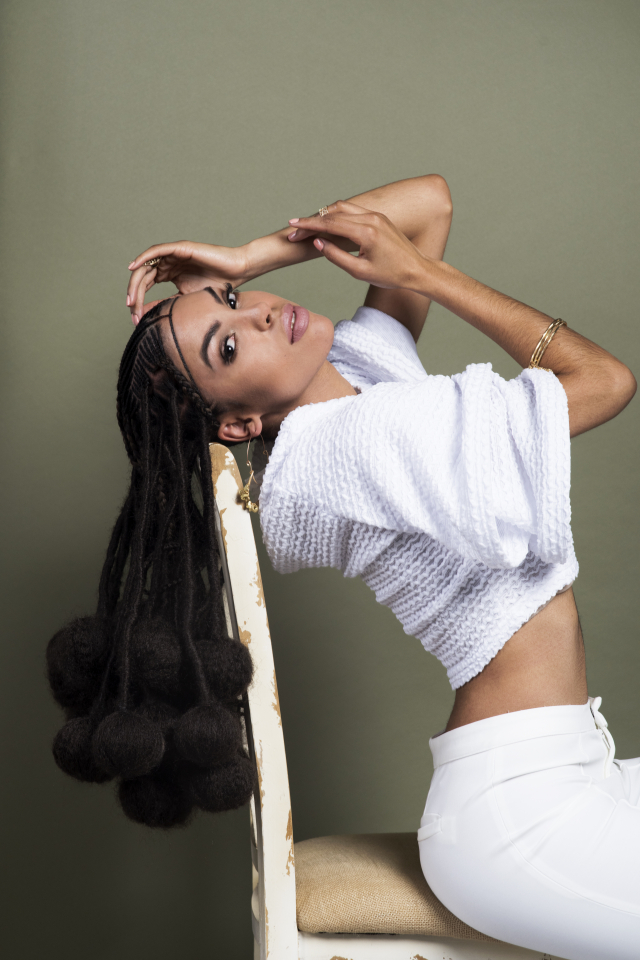 Photo credit: www.KiaraLanier.com
Hailing from the South Side of Chicago, Kiara Lanier is a hybrid of grit and groove. Rolling out recently spoke with the up-and-coming artist, who has performed for President Barack Obama, about loving herself, her unique style and her soulful sound. Check out the interview below.
How would you describe yourself as an artist? 
I'm a soul experimental artist. Soul — both spiritually driven and also in the context of the musical genre, being heavily inspired by the spirit-moving energy of Aretha Franklin and Chaka Khan and '70s R&B and funk. As for experimental,  I draw from the improvisation from Chicago's own free jazz ensemble, The AACM [The Association for the Advancement of Creative Musicians Inc.] and also contemporary performance art and composers like Meredith Monk and Harry Parch. I seek to sync the spiritual, spectacle and soul.
In addition to making incredible music, you're known for really creative hairstyles. Where did you get the inspiration for your look?
This look I've coined "The Ara Orbs." I was directly inspired by two different traditional hairstyles — the braided style from Ethiopia and the balls from the women in Madagascar. I made it my own by bringing the two together with a faux loc. I started this style in 2016 with braider extraordinaire Shani Crowe and perfected and continued to develop the style over the years with my incredible stylist in Chicago, Katrice Garvin.
There's a biblical reference to a woman's hair as her glory. Do you agree with that statement?
I would definitely say a woman's hair is her statement she makes to the world. Whether she's bald or flicking 30 silky inches, she is painting a portrait of her personality — which can change day to day. Hair says things to you: "I'm sweet," "I'm expensive," "I'm natural, and no, I don't eat meat." Just as our energy can change day to day, giving ourselves permission to play and experiment with hairstyles allows us to become a new character.
Artists like Grace Jones, for instance, have always made statements with their hair. Which entertainers made an impression on you because of their hairstyling choices?
I've always been inspired by the hairstyle and overall style choices of Bjork. She's a living example of creative and whimsical freedom. When I was young and Alicia Keys came out, I was definitely inspired by her braid's curves and zigzags. I also loved the wild old-school styles of Patti LaBelle and Chaka Khan.
From the '60s to present, which era do you think had the dopest hairstyles?
I'm an old soul. I'd definitely say I loved the styles of the '70s because the message[s] of the styles were so unapologetically Black. Brothers and sisters had Afros picked out to the gods! And also, these slick and sculpted press and curls with so much body and volume. The hair was large, the people were loud and the music was poppin'!
You recently released a new EP. Tell us a little about the project. 
Sure. It's called Tongues and Teaspoons. The title was inspired by my grandfather, Aba, who is my mentor and a yogi. I've written down a lot of proverbial phrases he's said me. Two of them are: "The only purpose of the tongue is to teach and heal" and "[my] knowledge can maybe only fill a teaspoon, but that keeps me thirsty for scriptures; and I'm going to keep reading because I want to be free."
At the time of the creation of this project, I was ending a long-term relationship with someone who was my best friend and beginning a real relationship with myself. A few of these songs we started together with just a guitar and a loop pedal in a small apartment in Harlem. Others I wrote as I began finding my power and strength in the new identity I was creating. This EP is my journey in self-love and self-healing colored by hues of reggae and R&B.
Where can our readers find your work?
My music can be found on all streaming platforms, and all of my works are on my website www.KiaraLanier.com. We can connect on Instagram too @KiaraLanier.