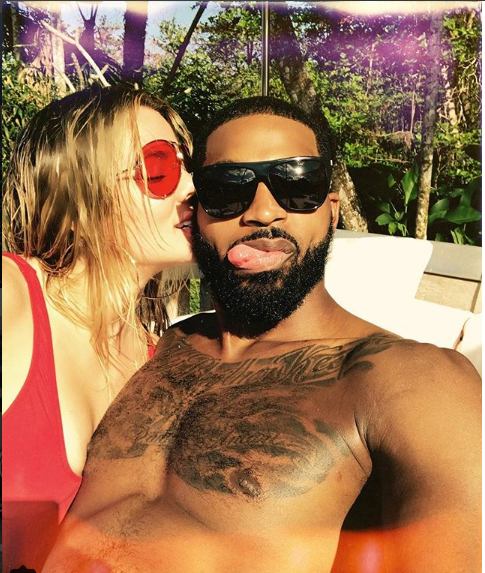 Tristan Thompson, the embattled back-up center for the NBA's Cleveland Cavaliers, has been the subject of countless memes, Twitter jokes and even mean-spirited mocking from sports analysts for his love affair with Khloe Kardashian.
But Thompson's relationship is even getting static from a member of his own family. The baller's father brought some heat to social media when he expressed his vehement disapproval of the fact that Thompson allegedly abandoned his first baby he had with his ex-girlfriend Jordy. She was pregnant with their first child, Prince Oliver, when Thompson dashed away from her and jumped into Kardashian's arms.
As the youngest Kardashian sister is inching closer to giving birth to their child, Thompson is also hovering around in a no-fly zone as he is the subject of furious trade rumors. As a one-dimensional player who has an extremely limited offensive repertoire, Thompson is an expendable piece from Lebron James' squad and his quest for a fourth championship.
Mr. Thompson almost guarantees that Prince Oliver will resent his dad. And the grandfather even went so far as to call his own multimillionaire son a fool and a tool:
"Talk some sense into Tristan PLEASE. Prince Oliver will one day question his father.
"Tristan act like he does not have a father…. what gos around comes right back around…. watch and see 👎👎👎👎he's a want to be a man….LOL Tristan only listen to his self and mother what a joke they don't know any better…. lol sad sad sad shame on them time will tell watch and see.
"There's nothing like having a father in your life for guidance…. I give thanks each and every day for my DAD whò knows what time a day it is ….. Tristan dose not respect his last name Thompson because he is $85 million stupid 😔😕.
"Khloe has a boy and a baby too raise…LOL."
We doubt these scorching words from father Thompson will help repair the fractured father-son relationship. This is not a new phenomenon, however. Lakers legend Kobe Bryant went years without speaking to family members once he entered the NBA as a ballyhooed rookie — and that included his father, Joe "Jellybean" Bryant, a former NBA player himself.
Despite the endless downpour of criticism of his relationship with Kardashian, Thompson continues to profess his love for the soon-to-be mother of his second child. In fact, the two are engaged to be married and he went onto social media to proclaim that Kardashian looks even better pregnant.
What do you think of Thompson's father's harsh words?