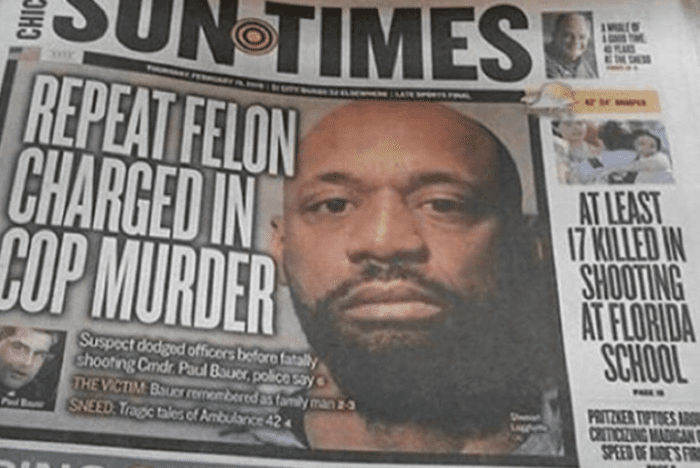 The mass shooting at Marjory Stoneman Douglas High School in Parkland, Florida, was one of the most horrific events of this generation. The shooting left 17 dead and, again, shed light on the issue of gun violence in America.
But while the nation mourned the attack, the Chicago Sun-Times decided to highlight another story. The story that was prominently featured was the shooting death of Cmdr. Paul Bauer. A large image of the Black suspect, Shomari Legghette, was featured on the cover as the Stonemason Douglas story was placed on a smaller portion of the page.
It was an example of the media choosing to prominently feature an image of the Black suspect instead of the gunman responsible for the mass shooting at Stoneman Douglas. The biased coverage created a backlash on social media.
Good morning @Suntimes .. hey, quick question.. how is a repeat felon killing a single cop, a bigger front page story, than a white-supremacist high school kid killing 17 people?

Asking for myself🙃 pic.twitter.com/fostNao0hg

— Po (@AndImPo) February 16, 2018
@Suntimes so let me get this right, a black man kills 1 police officer (bad) and has a HUGE mugshot on the cover, but the Caucasian Terrorist Nick Cruz that murdered 17 innocent children has a TINY f—ing article on the side….. Aight bet. If you're in Chicago boycott them…. pic.twitter.com/UYi0f6Ubod

— K.Booth (@KTB1914) February 17, 2018
There they go with that bulls—! @Suntimes puts the mass murderer hella small to the right bu put the man that killed a cop big as day in the front because he's black!

— iluvmeudo2 (@NobbotteO) February 17, 2018
@Suntimes is this your real cover? A man *charged* in killing one person gets that huge cover story BUT the monster who *in FACT* murdered at least 17 mostly kids gets a side section there? Please explain how you don't make that news front & center. pic.twitter.com/142WWnWJQC

— ☠ MizV ☠ (@MizV) February 16, 2018
Why is the mass shooter's story in such small print, yet you highlight this black man with such prominence?!?! Do you realize this shooter killed multiple CHILDREN?

— CoCoCari (@JNeeSooCraeZ) February 16, 2018