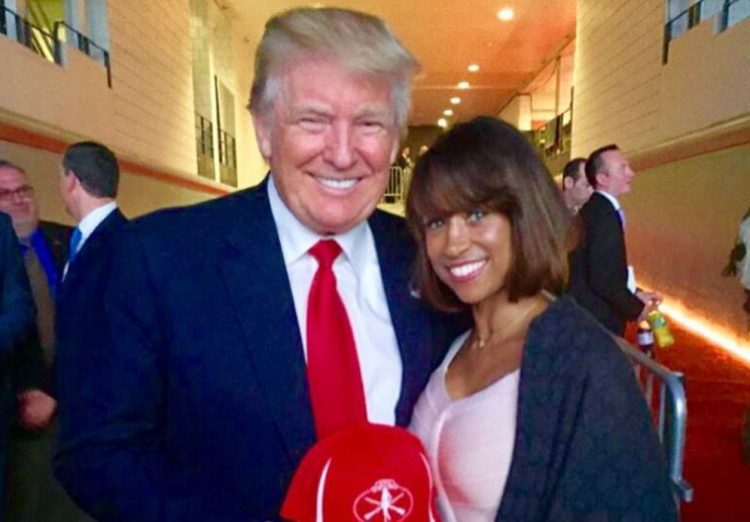 Vacuous vixen Stacey Dash believes she has graduated from being the queen of girlie magazines such as Playboy, Smooth and Black Men long enough to accrue the requisite political credentials to run for Congress.
According to The Hill, the Clueless conservative, who came to fame routinely spewing vitriol at former President Obama for Fox News, has filed FEC paperwork to run as a Republican from California's 44th District under the slogan "Dash to DC."
The D-level actress hopes to fill the seat currently occupied by Rep. Nanette Barragán. Weeks ago, Dash posed the question to her Twitter followers about her potentially running for Congress.
"A number of people online and off have suggested I run for political office," she wrote. "I wanted to see what my online community thinks of this idea as I mull the possibilities. Thoughts?"
Based on the feedback she received and other factors, she has now made it official.
I live in the 44th unlike some who don't live in their districts. Thank you to those who offered their support.

— Stacey Dash (@REALStaceyDash) February 26, 2018
GOP actress Stacey Dash files FEC paperwork for CA House district 44 –> https://t.co/gpveakIOnL @CQnow

— Kate Ackley Zeller (@kackleyZ) February 26, 2018
Formal statements coming. For those mocking for the district I live in…open your minds. It's time to for me to put up or shut up and I want to serve great people.

— Stacey Dash (@REALStaceyDash) February 26, 2018
For those unfamiliar with Southern California's political districts, here is a breakdown of the 44th District Dash is running for:
Compton
Watts
San Pedro
North Long Beach
To translate, the 44th District in greater Los Angeles is overwhelmingly minority and Democratic. The same district voted overwhelmingly for Hillary Clinton during the 2016 election, making this a nearly insurmountable obstacle for Dash to hurdle. After all, she was a Fox News contributor until 2016. She didn't get a renewed contract (in other words, terminated) following a segment in which she used a curse word while discussing President Barack Obama and his attitude toward the war on terror.
While most political observers and pop culture watchers laughed at the idea, Dash was buoyed by a few supporters on Twitter:
"You are intelligent and articulate. You are brave. GO FOR IT, GIRL!" tweeted a fan who goes by the handle @PaintingPastor.
"Please run for office!" begged @CharityLove08. "I am a conservative I am female I am Latina & I am a mother but most importantly I am a proud American. We need more representation in this country. Please take on that role for us. Show the world its possible to be a Woman of color with morals & modesty."
Of course, many urbanites are having a good laugh to go with their morning coffee and cereal:
A Live Visual of #StaceyDash + her Congressional Campaign: pic.twitter.com/g7uHBF12xd

— Court Kim Winfrey (@TheCourtKim) February 26, 2018
When you thought America couldn't get dumber Stacey Dash runs for congress 🙄🤦🏾‍♀️ #StaceyDash

— laquita simmons (@jkllol) February 27, 2018
#StaceyDash is running for office.
If she won, her districts would include Long Beach California and Compton.

Some jokes just write themselves.

— Right Hand Arm, Man (@shaolinmonk_808) February 26, 2018
I don't know about you, but I don't like the idea of having a D-List actress with no political experience running for office. #StaceyDash https://t.co/ybxNG9ta5y

— Nerdy Resister (@NerdyResister) February 26, 2018
Help me keep fighting against Trump's #clueless agenda and for the values of tolerance and inclusion. #StaceyDash Donate here: https://t.co/vUqdZdBuEN

— Nanette Barragán (@Nanette4CA) February 27, 2018