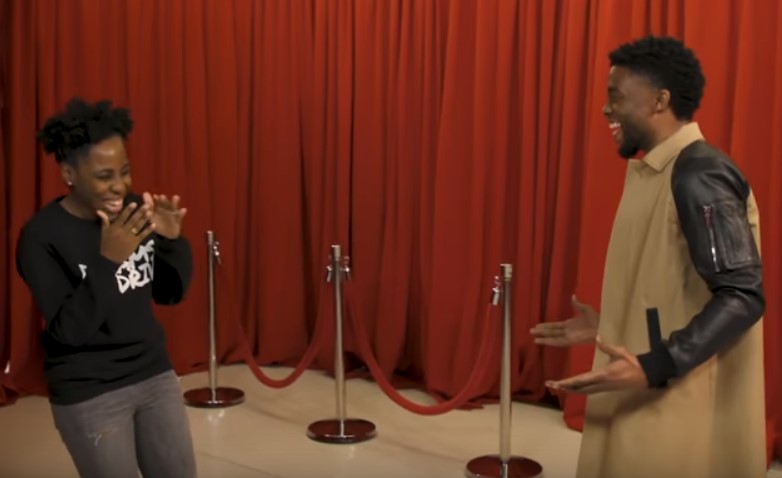 In this volatile age of political animus, school shootings, alleged corruption in the White House and heightened antagonism with our global enemies such as North Korea and Russia, it was nice for millions of fans to be able to be whisked away for a few hours on a journey to Wakanda via the record-breaking film Black Panther. A few Panther fans got an extra bonus as they got a shocking meeting with the star Chadwick Boseman. 
During Wednesday night's "The Tonight Show Starring Jimmy Fallon," several Black Panther fans were given the chance to film a video message for protagonist Chadwick Boseman about the significance of the movie in their lives.
They had no idea that Boseman was watching behind a curtain with Fallon and came out to surprise each one.
After the first guy overcame his shock, he greeted the Black Panther star with the Wakanda salute of crossed arms over his chest and said, "My king! My king!"
One man jokingly thanked Boseman for wearing a suit for most of the movie, because "when your chest was out, [my girlfriend] was getting a little excited, and I felt insecure, so thank you for that."
Another young fan, whose mother had said his life had been defined by Barack Obama and now Black Panther, seemed in complete shock.
Meanwhile, Black Panther continues to dominate the North American box office, taking in $10.1M at 4,020 locations on its 12th day of release to become the 20th-highest grosser of all time, with $421.8M.
Tuesday's haul moves Black Panther past Wonder Woman ($412.6M) and Toy Story 3 ($415M) on the domestic list. It's now $1M behind The Lion King for the 19th spot of highest grossing films.
Tuesday's international take was also $10.1M, lifting the tentpole's overseas total to $326.3M and the worldwide haul to $748.1M.
Check out the video in full below:
Source: YouTube/The Tonight Show with Jimmy Fallon