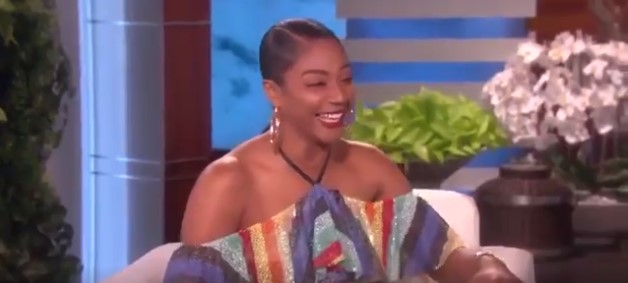 Award-winning comedienne Mo'Nique has shown no signs of fatigue as she continues to brawl with half of Black Hollywood — including Oprah, Tyler Perry, Lee Daniels and Will Packer — as well as radio personality Charlamagne Tha God and Nexflix.
After Oprah told Global Grind why she doesn't respond to negative comments from people — like, for example, Mo'Nique and Donald Trump — she said it's because you can't combat darkness with more darkness, and have to use light instead.
"It's impossible, it's a law that if you meet negative with negative you will just have a combustive negative force of energy," said Winfrey. "You can't meet negative energy where it is, you have to rise above it, you have to transcend it. You have to be the light. It only takes a little bit of light to banish the darkness, it takes a lot of darkness to overcome the light. It takes just a little bit of light and we are warriors of the light. I would never stoop to try to meet somebody where they are negatively. Don't care who they are."
ATTN🚨Global Grind Exclusive: @Oprah speaks out about the negative comments that she's been receiving from @realDonaldTrump & @moworldwide. MUST SEE: https://t.co/ljEsZ1Ncs9#AWrinkleInTime pic.twitter.com/VDJlYatGUU

— Global Grind (@GlobalGrind) February 24, 2018
Mo'Nique threw some shade her way in a posting that was captured by The Shade Room.

Meanwhile, Mo'Nique is not upset, at least she doesn't show it publicly, that rising fellow comedienne Tiffany Haddish has just announced her own Netflix deal reportedly worth over $800K, three Benjamins more than what the Precious actress was offered.
I already got a deal and I signed it way before she said a thing and its not legend money but its enough to take care of my family for min. #Facts

— Tiffany Haddish (@TiffanyHaddish) February 24, 2018
Mo'Nique assured Haddish that he did not do anything wrong and that she supports her wholeheartedly.
You've done nothing wrong my sister. You KEEP SHINING! I am proud of you. You keep doing what your doing. You are making it better for the next ones. Luv u 2 life.

— Mo'Nique Worldwide (@moworldwide) February 25, 2018
Does Mo'Nique amiable stance toward Haddish surprise you, seeing that Mo'Nique has beef with Nexflix? And what do you make of Mo'Nique's continual hate of Oprah?