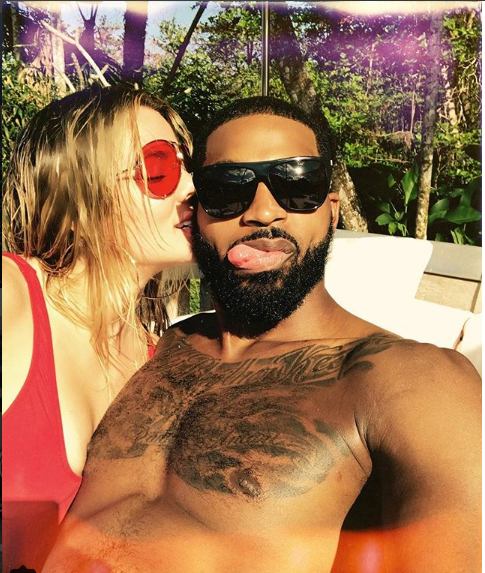 Tristan Thompson is on the wrong end of a blistering blowback from fans who watched the recent episode of "Keeping Up With the Kardashians" and saw how he barely acknowledged that he even has a toddler son that he reportedly abandoned to be with Khloe Kardashian.
Thompson's current girlfriend and soon-to-be baby mama Khloe Kardashian was seen learning that they're expecting a baby girl, which caused her to have mixed emotions.
"Everyone told me, 'You're going to feel what you're having and you'll just kind of know,' " said Khloe. "And then when you find out it's the complete opposite, it's just a shock. I just was convinced that I was having a boy, so to be having a girl, it's just like, 'OK, that wasn't what I thought was going on.'"
Keep in mind that Thompson already has a son with ex-girlfriend Jordy Craig, who delivered the baby while Thompson was dating Kardashian. Reports are that the Cleveland Cavaliers center left pregnant Craig for Kardashian after meeting the statuesque Kardashian at Kevin Hart's wedding.
This is why fans are tossing verbal darts and nails at Thompson and Kardashian.
One fan, in particular, thinks Kardashian wanted a boy with Thompson so the child could "compete" with his other son.
Khloe really said Tristan wanted a boy as if he doesn't have one already pic.twitter.com/rVOUGYJ2FB

— N🌷 (@Nunulabelle) March 5, 2018
Was his reaction like that with the baby he left for you

— Angelique taylor (@_KingAngie) March 5, 2018
I'm watching #KUWTK and I'm sure Khloe only wanted a boy to compete with Tristan's son, and I don't like that

— Dess ✨ (@Dess_xo_) March 5, 2018
I played this fun fill-in-the-blank game about my hopes for my daughter when she grows up! 💕https://t.co/LmTpCSiNwE

— Khloé (@khloekardashian) March 5, 2018
I think a T but a K is an option as well. That's as far as I know https://t.co/Rs6zPdI0BT

— Khloé (@khloekardashian) March 5, 2018
Will she be friends with Tristan Thompson's son? https://t.co/u22svw0bnH

— ~Just V~ (@platinumivory) March 5, 2018
Tristin has son, that Khloe never mentions. He's not even 2

— Cynthia Maldonado (@dashingdiva) March 5, 2018
Why does no one pay any attention to Tristan Thompson's FIRST SON. Or that he left his pregnant girlfriend for Khloe Kardashian. Or that the entire Kardashian family and Tristan refuse to acknowledge the fucking son he already has! I find that shit beyond fucked up.

— Mercedez B Daugherty (@lovelymercedez) March 2, 2
Khloe was mad she was having a girl because she's trying to pretend Tristan doesn't have a son.#kuwtk

— Noe Solana (@solana_noe) March 5, 2018
Now he'll have a boy and a girl. Do you think his son is excited for a new little sister?

— 🌊Poppy Bellenoire❄ (@BellenoireA) March 5, 2018