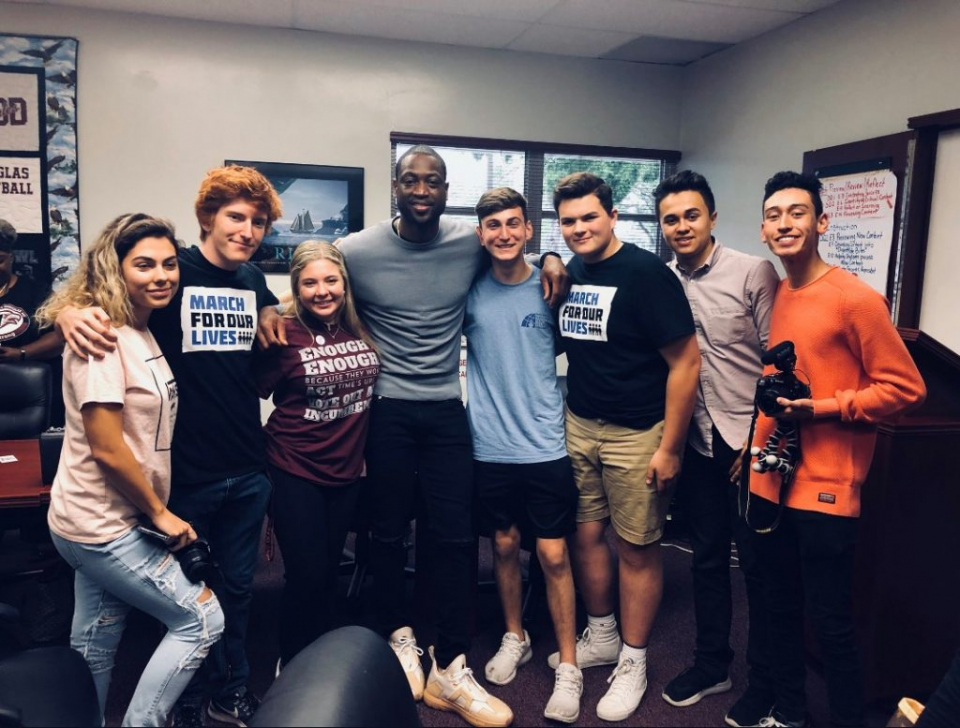 There is a reason why Dwyane Wade is up there with former Miami Dolphins quarterback Dan Marino as arguably the most beloved athlete in Miami-Dade County history.
The future Hall of Fame guard for the Miami Heat and three-time NBA champ made a surprise visit to Marjory Stoneman Douglas High School on Wednesday, the site of the mass shooting that killed 17 people at the Parkland, Florida, school on Feb. 14.
D-Wade appeared the same day Secretary of Education Betsy DeVos spoke to students at the school, but D-Wade's reception was viewed in a radically different, and much more positive, light by the teens.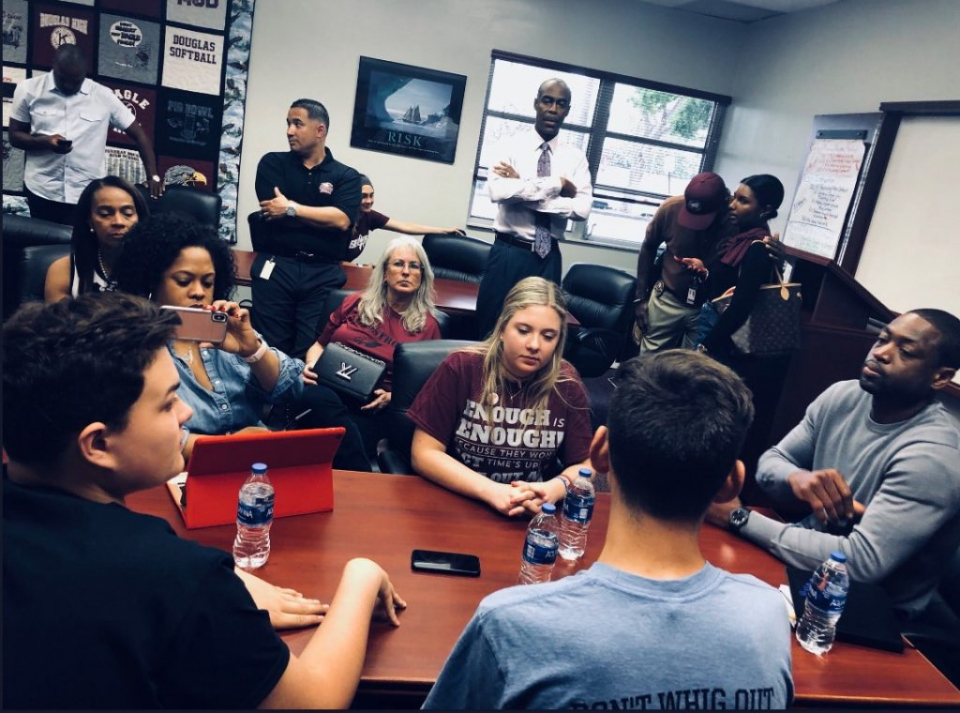 I was with both Devos and Wade today. Devos didn't sit down with students and asked what we wanted. She gave us BS answers to the only few questions I was allowed to ask. Wade on the other hand, did more than she. He sat down with students and asked important questions. https://t.co/luVARWPqoR

— Kyra (@longlivekcx) March 7, 2018
After the visit, D-Wade spoke about his experience on his Twitter page.
I just had a great conversation with some of the students at Stoneman Douglas High School about some important/impactful things that they have planned. I'm looking forward to being more involved in the change that they WILL create. #MSDStrong💪🏾💪🏾💪🏾

— DWade (@DwyaneWade) March 7, 2018
Our conversation about bridging the gap between the students from Parkland, Florida and Chicago was really impressive. These young adults GET IT. They understand the power of their voices for the ones that often go unheard!

— DWade (@DwyaneWade) March 7, 2018
The students appreciated D-Wade's visit and said he did a lot more than the politicians who are elected to make change.
.@DwyaneWade met with the students, sat down and talked to us and asked important questions, secretary of education did not. Wade also met with Joaquin Oliver's brothers @shehatesjuju and @A1_a1sinceday1. He did more than someone who has the political power to make change. pic.twitter.com/mGVW8zf6U8

— Kyra (@longlivekcx) March 7, 2018
Future leaders is what i call them. https://t.co/oxSb1BDzV1

— DWade (@DwyaneWade) March 8, 2018
Thank you @DwyaneWade for sitting down and listening to us!!! So grateful that you want to get involved! #NeverAgain pic.twitter.com/bfoXUx73h3

— #NeverAgain (@NeverAgainMSD) March 7, 2018