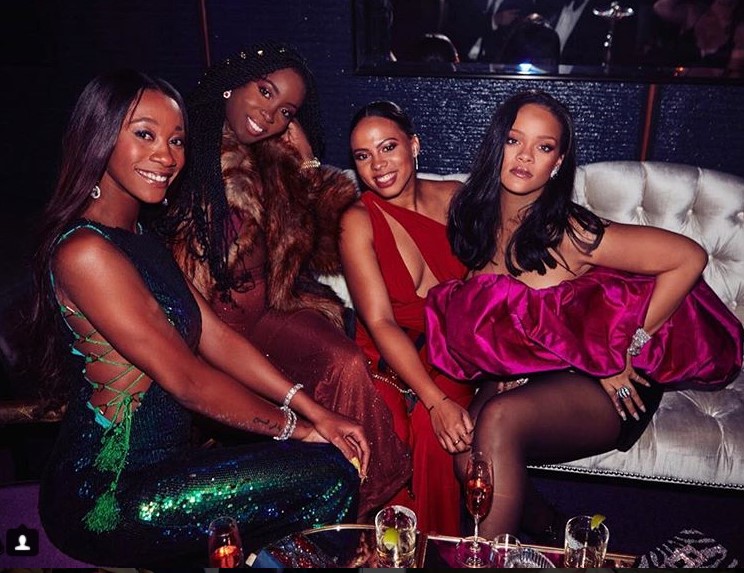 Rihanna did not just snatch off Snapchat's wig and stomp on it, she also swiped its soul (meaning its stock market value) sending it further into the abyss.
After Snapchat ran a repellent ad on its platform that flagrantly mocked domestic violence — and then Rihanna came and peeled off Snapchat's scalp with a withering rebuke — Snapchat's shares dropped as much as 5 percent, CNBC reports. This means the Snapchat app lost in market capitalization somewhere in the range of $600 million to $1 billion.
"Now SNAPCHAT I know you already know you ain't my fav app out there!" Rihanna began as she fired up the blowtorch. "But I'm just trying to figure out what the point was with this mess! I'd love to call it ignorance, but I know you ain't that dumb!" the singer said on Instagram on Thursday …"
Rihanna continued the slow burn on Snapchat's backside as she vented before her 61 million Instagram followers.
"This isn't about my personal feelings, cause I don't have much of them … but all the women, children and men that have been victims of [domestic violence] in the past and especially the ones who haven't made it out yet … you let us down! Shame on you. Throw the whole app-oligy away."
After saying sorry on Monday for the ad, which Snapchat says was "reviewed and approved in error," the company felt compelled to repeat its meaningless and hollow mea culpa on Thursday.
"This advertisement is disgusting and never should have appeared on our service. We are so sorry we made the terrible mistake of allowing it through our review process. We are investigating how that happened so that we can make sure it never happens again."
You can be sure it won't happen again because it's hard to breathe, much less thrive, inside a coffin.
The ones who are nailing it shut are faithful Rihanna followers, and former clients like the U. S. Department of the Navy, who are all avoiding the app like a contagion.
the final nail in the coffin. we had a good run snapchat. https://t.co/42SIHDm4kP

— dr. phillmonger (@NathanZed) March 15, 2018
mark zuckerberg been trying to kill snapchat for years and rihanna did it in an afternoon – THAT'S power and influence

— G🧜🏾‍♀️ (@oneofthosefaces) March 15, 2018
Rihanna just singlehandedly ended Snapchat https://t.co/Z6Q2fpX1FU

— Philip Lewis (@Phil_Lewis_) March 15, 2018
Rihanna said we should delete our snapchat for their domestic abuse joke. Our president has spoken therefore i'm deleting snapchat. pic.twitter.com/nLvB2okCRa

— c (@kidcudison) March 15, 2018
Rihanna gave Snapchat the final deffaz. Only way they can make up for this is by bringing back the old format.

— OXTAIL GAWD (@ThatDudeMCFLY) March 15, 2018
My wife said i gotta delete Snapchat, and this app ain't about to break up our happy home. I'm with you, boo @rihanna

— Kazeem Famuyide (@RealLifeKaz) March 15, 2018
Hey my love @rihanna
We just wanted you to know that we don't like Snapchat anyway. We're waiting on FentyChat. Thank you.

— Watch Him GLO 〽 (@dom_719) March 15, 2018
OKAY RIHANNA SAYS SNAPCHAT IS OVER WE'RE ALL INSTA STORY HOES NOW LADIES OKAY pic.twitter.com/peUjpTZf2s

— andile (@INDIEWASHERE) March 15, 2018
I stopped using Snapchat months ago but after Rihanna said throw the whole app away I was like welp, *deletes app from phone* 😂😂😂

— Alissa Ashley (@alissa_ashleyy) March 15, 2018
rihanna said snapchat is over & to throw the whole app away so what am i gonna do? throw the whole app away… we're strictly insta story hoes now ladies

— chula. (@kiIIakaye) March 15, 2018
Me going to delete Snapchat because Rihanna told me to but then realizing if I delete the app, I delete the filters. pic.twitter.com/gyrxm5gHWP

— Castiel Merteuil (@SurgeonOfMean) March 15, 2018
What happens when you make stupid decisions and drag @rihanna into it. Come on, Snapchat 😒🤦🏽‍♀️ pic.twitter.com/5T6UDCendi

— Janette Artea (@janetteartea) March 15, 2018
Rihanna: "Throw the whole snapchat app away"

Me: pic.twitter.com/1BPJrAqp9H

— Nigeria's🇳🇬Finest™ (@DMV_Drummerboyy) March 15, 2018