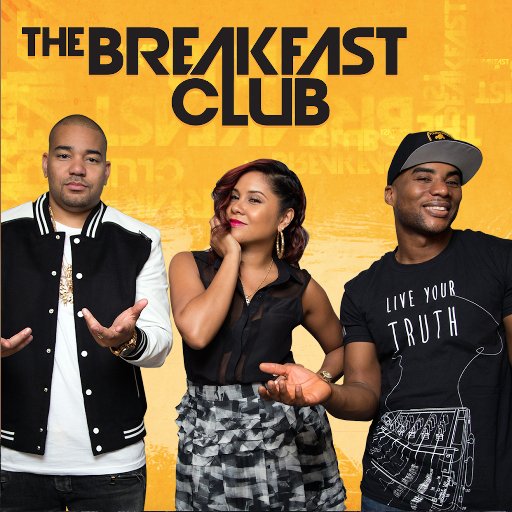 "The Breakfast Club" morning show just got much more interesting today.
DJ Envy allegedly is caught up in a roast-inspiring Snapchat sex scandal with a potential sidepiece. Once again. Envy's so-called sexual proclivities have turned this one-third of the famous morning show triumvirate into a national joke. What has Twitter in stitches is the fact that DJ Envy, a married man who's already been caught cheating, was immersed in a conversation with a young, attractive woman on SnapChat that quickly got sexual and graphic. The damning part came when Envy allegedly told the woman that he enjoys anal penetration with a 9-1/2 inch dildo on a regular basis. 
No one would have known about this conversation; however, the young lady chose to put Envy on blast and post the contents of their conversation online for all to see.    
Now, the reactions (and the "Breakfast Club" fan base's anticipation of Charlemagne tha God's reaction) could make this moment an instant classic. This also evokes memories of a recent radio interview that "Being Mary Jane" star Gabrielle Union conducted with "Shay in the Morning" where she outlined, in painfully graphic detail, how she enjoys eating off of the derriere of her husband, NBA star Dwyane Wade, which also became the butt (no pun intended) of jokes on Twitter for at least 48 hours.
On the morning of Oct. 26, about 12 hours after the scandal broke and set Twitter aflame, DJ Envy tried to address the matter on "The Breakfast Club": 
"Let's find out who's being cyberbullied," said Envy.
"I would prefer you to say digitally penetrated," joked Charlamagne.
"Envy did tell me somebody had been harassing him and hitting up all these blogs," said Angela Yee. "[The Snap Chat] doesn't say Sir Envy one."
"I'm not gonna entertain this bull crap that you're spitting out Angela Yee, anybody can make anything appear," said Envy. "I don't like any of it! There's nothing going in my butt. This is stupid."
Envy, who not too long ago got swept up in an extramarital affair (or two or three) that put his marriage on the brink of implosion, seemingly caught again red-handed seeking provocative pleasures with a potential mattress partner and the help of some, um, instruments. Black Twitter had a field day mocking the famous radio personality. Check it out below:
This is gonna be DJ Envy on the air tomorrow morning pic.twitter.com/hXB8breQCsU

— Tariq Nasheed (@tariqnasheed) October 26, 2017
Gabrielle Union headed to DJ Envy's house with the strap: pic.twitter.com/bDMnpf7dv0

— ronald isley (@yoyotrav) October 26, 2017
Gabrielle Union headed to DJ Envy's house with the strap: pic.twitter.com/bDMnpf7dv0

— ronald isley (@yoyotrav) October 26, 2017
"What else" pic.twitter.com/8R0lf8lF9E

— Henny Omega (@MyNig) October 26, 2017
"What Toy?" pic.twitter.com/gTBenY9Ens

— SAMUELITO (@SamCaminiti) October 26, 2017
#UAreVicious pic.twitter.com/bbYZLSj0rm

— Puneet (@puneetsingh) October 26, 2017
When DJ Envy and Gabrielle Union see eachother… pic.twitter.com/4nxtcq1zdr

— DiBiase (@Dibiase_ca) October 26, 2017
"U are vicious" pic.twitter.com/SGJZbTzAr6

— WestsideEli (@UnhUnh_GetMoney) October 26, 2017
DJ Envy with his overnight bags heading to his dildo appointment pic.twitter.com/HwCPtPddX8

— ㅤً (@The__Prototype) October 26, 2017
Dj Envy: "what toy"

Her: "my 9.5 strap on"

Dj Envy: pic.twitter.com/yIWbbcPPAb

— Richie™ (@NoGoodRich) October 26, 2017
"U are vicious" pic.twitter.com/SGJZbTzAr6

— WestsideEli (@UnhUnh_GetMoney) October 26, 2017