As shown by the recent nationwide school walkouts, our youth aren't waiting for change, they're making it happen. Nya Simoné is a 13-year-old aspiring musician who has created a space to highlight the artistic talent of her peers. On March 18, she is hosting the inaugural "Make US Known: We Lit!" concert and showcase for Detroit youth ages 7 to 18. Set to light up the Charles H. Wright Museum, there are about 12 artists scheduled to perform. Her purpose is twofold: celebrate her peers who are often marginalized and show outsiders that Detroit is more than the stigmas and stereotypes. This groundbreaking event is sponsored by Piece of LA, Rose Bloom Management Group, Sweet Potato Sensations, Naturally Fly Detroit, Up From The World Ministries and Mr. Brian C. Jones.
Nya, who has performed with bassists Nik West and Divinity Roxx, envisioned the concert after participating in the Motown EDU Music Camp during summer 2017. Thanks to Nya's determination and her momager, Kiwana's guidance, her idea has become a reality. This young history maker is dispelling perceptions of teens as lazy and apathetic. While finalizing plans for Make US Known, the humble teen shared her insight on what and why we should know about the hidden gems among Detroit's youth.
What prompted you to create Make US Known?
I realized that talented Detroit youth don't get a chance to showcase their talents. I wanted to be the one to provide them with a stage to showcase their talents.There are a lot of us who are gifted and just don't have a platform to display our talents. I want to provide a stage for that. It's very easy to ignore us and with all the redevelopment in Detroit, we are being left out of a lot. When Detroit and/or Black children are focused on, it's usually in a negative light. So this is for us. Detroiters. Children.
Tell us about the lineup. How did you find the artists?
We had online auditions and in-person auditions. After I was on the news, we got way more online auditions, so we had to postpone the concert to March 18 because it was originally Jan. 27. It was myself, Steffanie Christi'an and this guy named, David Ellis. They helped us pick who's going to be in the concert.
How did you get into music? 
When I was 10, my mother made me audition for the Michigan Opera Theatre Children's Chorus. I didn't want to, but she made me and I ended up enjoying myself. From there, I fell in love with music.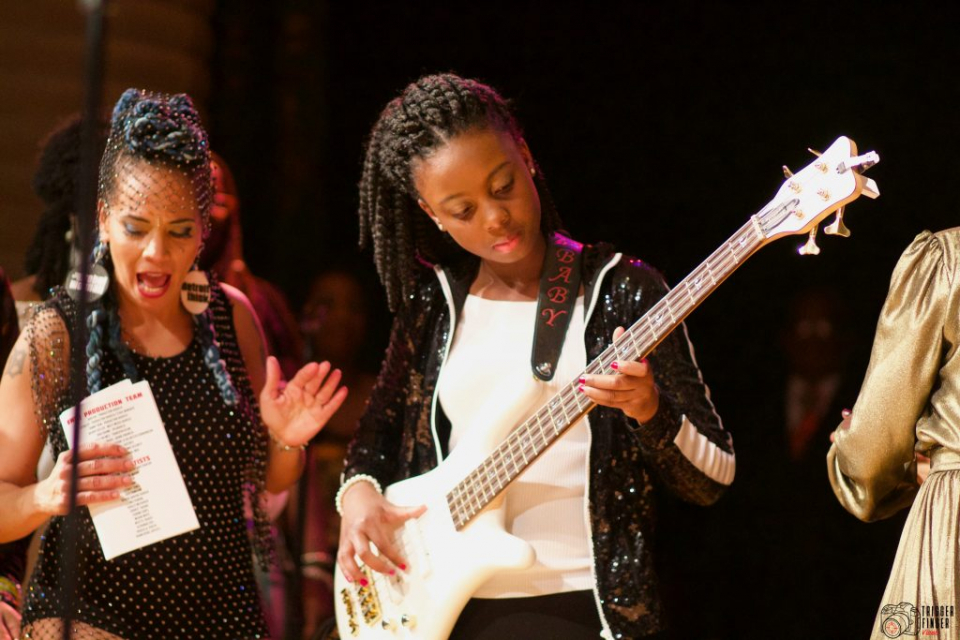 I arrived during your bass guitar lesson. What other instruments do you play?
I play saxophone, bass guitar and piano (a little bit). I want to learn how to play the drums.
If you could perform with any artist, dead or alive, who would you choose? 
I don't know, there's so many. I would want to work with Michael Jackson and Prince and I would like to work with Beyonce and Aretha Franklin.
"Make US Known" is a great title for this show. How did you come up with it?
There was a list. There was, "Beyond The Herd," — like I was picturing a black sheep [standing out] from the white sheep. It was: "Make Us Heard." "Beyond The Herd" and "Make Us Known." My mom was like, "I  like all of these." I couldn't pick one, so I put it in a decision making thing, online.
Do you plan to pursue music as a lifelong career?
I want to be a music producer when I get older and eventually start my own record label.
What are your thoughts on the current trends in mainstream music?
A couple weeks ago, I wanted to learn a hip-hop song on the bass because not a lot of people do hip-hop songs on bass. But there were so many songs that stuff about sex, drugs and a whole bunch of inappropriate gross disgusting things. I was like, "I can't do any of these songs." I think that the music industry now … it's just not good. Like the mumble rap, you can't understand what they're saying, it's like a whole murder confession.
Which current artists do inspire you? Who are some you look up to who represent the art?
I like Kendrick Lamar. Jay-Z — I haven't been able to really listen to his music because my mom won't let me — but the stuff that I have heard and reading his story, I think that's really cool that he's come that far in his career and he has his own label and that much money and that much power in the music industry. I like Lauryn Hill and another artist I like is H.E.R. In her song, "Focus" she uses a harp and not a lot of people use harps, now it's just beats you make on a computer.
Do you plan to make this an annual event?
I eventually want to take it across the country in other inner cities.
What else is coming up for you?
Make US Known has been asked to do a two-hour set at the hydroplane races [in Detroit] this summer. I have to produce and write a song for them. I'm taking a trip to Georgia for my birthday [May 30] and while we're there, we're going to look at other places to have Make Us Known concerts.
For more information, visit Make US Known: We Lit! A Concert ft. Detroit's Youth! on Facebook and simone_nya on Instagram.