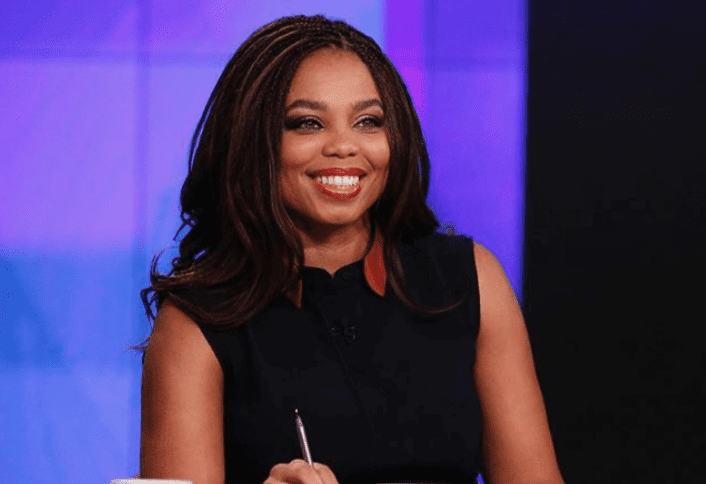 In 2017, the entire nation remained on edge mostly due to the political climate. Donald Trump's first year in office was marred by multiple scandals, White House firings, and divisive messages that would have severe repercussions.
The country reached a boiling point following the horrific events that took place in Charlottesville, Virginia, in August 2017. The president's unpresidential response added to the Charlottesville tragedy which resembled a scene from the turbulent civil rights era.
This was arguably the first time that a generation witnessed a president take the side of overt racism and hatred. The reality of post-Obama hit like a sledgehammer, but not everyone was willing to speak out and tell the truth.
Enter Jemele Hill.
Hill writes, speaks and fights as if she has nothing to lose. But it takes that type of confidence, swagger and knowledge to succeed as a Black female journalist in sports. It's an industry where Black athletes often make up the majority of players on the field, but Black journalists and reporters are severely underrepresented. When Hill began her career in Orlando in 1997, she knew that there would always be an uphill battle.
"There's definitely not enough women of color [in sports]," Hill said during an interview following her keynote address at the Atlanta Hawks' MOSIAC Symposium in Atlanta. "Women of color that are in the business, there needs to be more diversity in terms of what they do. Everyone does not want to be an anchor. I didn't necessarily want to be an anchor, I didn't want to be on TV. period. But that's kind of where my path led. There need to be more roles for women in sports, driving shows with their own opinions. There should be more women in the booth as color analysts, as play-by-play personnel. I think the downside of new media and digital media is that a lot of these companies are not going out and actively getting people of color. I don't see or hear about some of these companies being on HBCU campuses or going to job fairs where there a lot of people of color. And some pressure has to be put on them to actively recruit and retain us as they would people who look like them."
In most industries, minorities rarely get the same opportunities as their White counterparts. As a result, some minorities who ascend to powerful positions will choose to remain silent instead of disrupting the status quo.
Following Trump's Charlottesville response, Hill said what most people were thinking, but too afraid to say. In a tweet, Hill said, "Trump is a White supremacist, who surrounds himself with other White supremacists." It was short, to the point, and truthful. However, she received backlash.
White House press secretary Sarah Hucklebee Sanders said that Hill should be fired from ESPN. A statement that was illegal according to federal law (Title 18 of the U.S. Code). The law states that government employees are prohibited from influencing the employment decisions or practices of a private entity or company solely on the basis of a partisan political affiliation. Sanders could possibly have called Hill's comments inappropriate, but she broke the law by saying that it was a "fireable" offense.
Trump also used his proverbial Twitter fingers to blast Hill in a series of tweets.
Hill was eventually suspended by ESPN following her stance against Jerry Jones who threatened to bench players for kneeling during the national anthem. It was a watershed moment where politicians used sports to further divide Americans along racial lines.
"I think [there's] no question that the NFL has sent a message to kneeling players," Hill said. "You've certainly seen owners like Jerry Jones who explicitly told his players that they could be benched if they take a knee during the national anthem. I think it's a sad commentary on the league. If people even bothered to look into why they're actually doing it, you're basically punishing somebody because all they want is equality and they want unarmed Black people to stop being killed. That's what you're punishing them for. And it says a lot about a league that would gladly welcome someone who has committed actual crimes, some of them against women, and gladly welcome them into the league. But they would ostracize someone like Colin Kaepernick whose only crime is standing up for people who are too vulnerable to stand up for themselves.
"He's probably the leading disruptor in the country. He's someone who was a finalist for Time Person of the Year and his impact on a generation of athletes is something we won't truly understand probably for years. But it's an incredible story when you think about it. This is somebody who once led a team to the Super Bowl and was a play or two away from winning one. So to go from that to not even being in the league is kind of astounding. I just have a feeling that a lot of people who have said disparaging things about him or have criticized him will be cursed by some of the things they have said 10-15 years from now."
There are sports journalists who will never speak out against injustices due to fear of losing status or a paycheck. It costs to have a conscience. Hill knows that every time she tweets or shares truth that could be considered provocative, she's taking a chance at losing her career. That's why her presence, words and voice are so important. When things aren't right, she's willing to sacrifice it all. That's the true definition of a disrupter.
"I would consider myself a disruptor, but just in a different way because I'm a journalist," Hill shared. "I believe [in] putting information into context and explaining to people why things are happening. What were the historical reasons that went into why this is happening? I think information disrupts because when you have the information, you can't lean and depend on your ignorance. And a lot of people out here are really digging down into ignorance and they're completely dismissing the information on purpose. They rather the emotions be facts. I would rather my emotions lead to facts. That's the way I choose to disrupt. I'm going to disrupt by critically thinking and critically asking questions and holding people accountable which is what journalists do."
–words by a.r. shaw, interview by lauren ashli