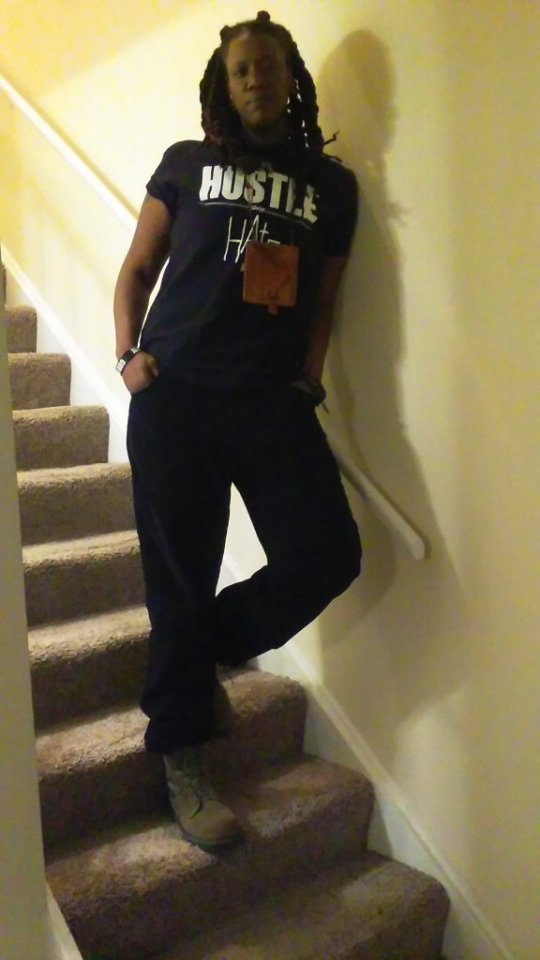 Jamie Bradley lives in her car. This writer met artist, writer and self-proclaimed "living life advocate" Jamie Bradley during a recent PR and media event. A humble and hopeful Bradley says she wanted to share her story with our readers. It's her hope that she can inspire people who feel they are at rock bottom. She's encouraging them to not give up.
Why does she smile in the wake of a diagnosis with non-combat PTSD and her housing circumstances? "I still smile because I am able to create every day, even if it's from the driver's seat of my vehicle. Being able to do so enables me to appreciate my past and current position that much greater. It fuels me with exponential passion as I exercise my purpose. Everything happens for a reason and purpose. I also know that God's got it. Regardless of my current position, still I rise as the great Maya Angelou once wrote," she says.
Here's the rest of her interview.
How did you arrive at this career choice? Was it a deliberate decision or a gradual and natural evolution?
God made the decision for me to be a creator, a writer and an artist. The decision was not made by me. I chose to make career choices in the past thinking my way was right, ultimately failing because of those choices. My choices didn't fall within God's purpose for creating me. God gives me the words I need when I'm writing. God guides my hand steady as I illustrate. I'm just the vessel. Now, I treat these gifts just as that, gifts, and I nourish them. I use them to do exactly what God intended me to do with them, create. I'm an example of what gradual and natural evolution into one's true purpose looks like.
What separates you from others in your field? What is unique about the experience that you create?
I separate myself from others because there is only one me. The things I create are the experience because they are a part of me. My art has my heartbeat and my writings are my breath. I give myself to my work and those are the distinctions that separate me from others. I create with passion and love, and in return, that same passion and love equip me with the fire I need to be successful. If I'm regarded as a great writer, it"s because the passion behind my writing was transferred into what was read and you can feel that. You"ll know love was an ingredient because it exudes from my art. I'm unique because I create with purpose. Ultimately, I'm God"s art and that shows.
How do you stay at the leading edge of your craft?
I stay at the leading edge the same way any leader does, by listening and observing. Sometimes, your eyes have to be closed for you to see something and your ears for you to actually hear it. This means you can feel it. I can feel it. I listen and observe to feel exactly what it is that I should create. When you couple the two, you will find yourself out front, thus, you become the leading edge. I pay attention. I pay attention to detail. I'm able to do this by listening to and observing myself. There will always be a race for greatness however, we must not forget who the leader truly is and that's God. In all reality, I look to God for the leading edge. So far so good.
How do you map out your goals? How do you measure your success?
I map out my goals as they are given to me. I move when God says go. And, I don't stop. When I listened to myself and others, I failed. Now, I focus on my strengths and how they can be used in meeting a goal. My goals reach far beyond myself. I'm careful not to limit myself either. I feel goals are the dots that connect the lines, that write stories of our lives, that paint our picture. My goal is to live and enjoy it. I know how it feels to be alive. I'm focused on fulfilling my purpose which I know will lead me exactly where I want to be.
I measure my success by the feeling I get after I step back. After I say, OK, it's done. If I re-read something I wrote and it excites me, that's a success. When I decided to step back and I smile because the colors flow just right, that's a success. If the receiving party is pleased, that's a great success. Sure, we all have different measuring tools. However, if I'm measuring my own success and I've met a goal, that"s a major success. That's what makes it so rewarding. I'm able to actually smile and work at the same time. That's a beautiful success.
If you could change one thing about the world, what would it be?
I would change the world's mind. The world I speak about thinks differently than the world we live in today. This world's mind would be focused on growth. That world would be respectful and kind. Logic and reasoning would come out to play, and it would be safe to do so. if I could change the world's mind there would be no random acts of violence. I appreciate our servicemen and women. However, there would be no need for a military because war does not exist. Love does. In my world.
If you could change one thing about yourself, what would it be?
In the past, I might have said everything. Now, not one single thing. God has given me these awesome gifts and shown me who I am, how strong I am and what I'm capable of achieving. When negative thoughts peer in, I rush to dismiss them knowing that I am greater than my fears. I often doubted myself, blinded [by] negative visions, which now, are overshadowed by my smile. Instead of wanting to change something about yourself, I would suggest adding to what God has already provided you with. I say that because that's exactly what I'm doing right now. Addition, not subtraction.
What keeps you inspired?
I have non-combat PTSD. I'm also actively working on overcoming anxiety and depression These illnesses crippled me for years, seemingly my entire life, until now. Now I'm back, I've returned via God. My past and present keep me inspired. I value my life now in a way I never have and that inspires me. I understand that things will happen that can't be controlled. However, I now have control of my own happiness and well-being — mind, body and soul. I wake up most days smiling, and that makes me happy and excited to be alive. I thank God for my peace and strength that are carrying me through to the new exciting chapters of my life. If you feel as if you've had enough and you can't go on any further living, yes you can. You are not alone and you are most definitely worth the fight. Fight for yourself and accept help and love. Living out my dreams, passions and purpose inspires me.
Which Bible Scripture(s) are you leaning on?
I look to and lean on the entire book of Proverbs. After I read Proverbs, It felt as if a roadmap was laid out before me. It speaks volumes of truths that offer knowledge and understanding of do's and don'ts, simply put. It gives me insight as to where I am in relation to where I need to be as I stretch my wings. The gifts of wisdom, the call of wisdom, and the value of wisdom excite my soul and I'm thankful to have the knowledge to know where to look and exactly what to do to attain it.