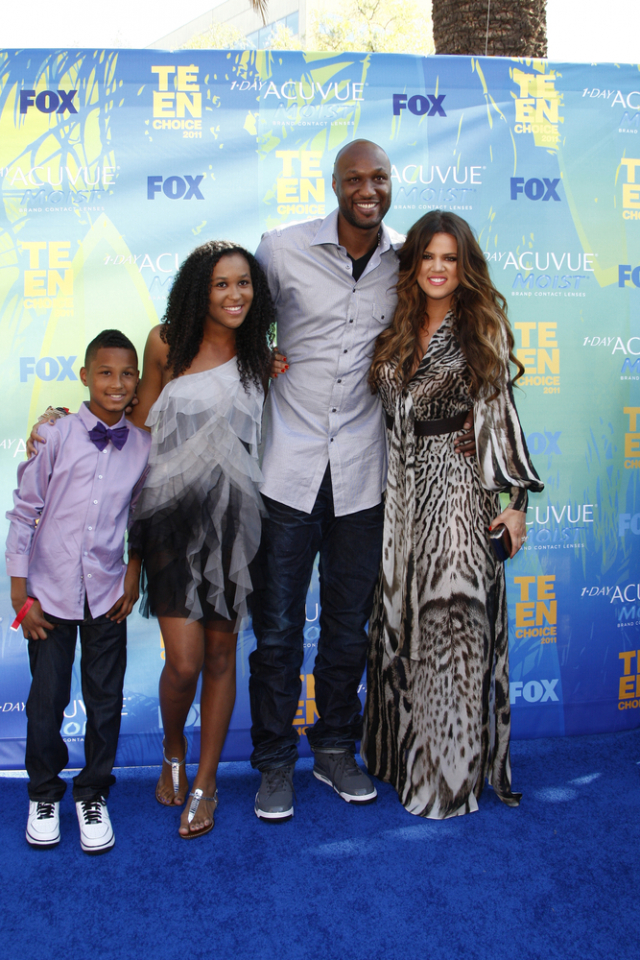 Khloe Kardashian's ex-husband Lamar Odom reportedly "feels bad" for the star after her boyfriend Tristan Thompson was filmed seemingly kissing another woman.
The 33-year-old reality star is days away from welcoming her daughter into the world whom she shares with Cleveland Cavaliers star Tristan, who made headlines this week after video footage emerged of what appears to be the 27-year-old basketball player kissing a mystery woman.
And in the wake of the cheating allegations, Khloe's former husband and fellow basketball star Lamar – who also had multiple affairs whilst married to the beauty from 2009 until their split in 2014 and eventual divorce two years later – is said to have offered a message of support to his ex-wife.
According to "Entertainment Tonight," a source said, "Lamar has been telling close friends that he genuinely feels bad for Khloe."
Despite his reported sympathy for the "Keeping Up with the Kardashians" star, the 38-year-old former NBA pro previously admitted to being unfaithful to Khloe multiple times during their marriage.
In 2017, Lamar said: "When I became Khloe Kardash­ian's man and on TV, it made me look more enticing. People who didn't even know basketball would approach me because they knew Lammy.
"If there is one thing I regret when I was married, it was having multiple affairs with different women. That wasn't the stand-up thing to do."
"Revenge Body" star Khloe also previously spoke about Lamar's infidelity, claiming she had no idea it was going on because the hunk always made her feel special.
She said in 2016, "I'm genuinely blown away as to when he fit that in. Lamar was so great at making me feel like I was the only one and I'm this princess. I never speculated cheating."
Meanwhile, in the wake of the scandal surrounding Tristan, Khloe's famous family – including mother Kris Jenner, sisters Kim Kardashian West and Kourtney Kardashian, and half-sisters Kendall and Kylie Jenner – are believed to have rallied together to support their loved one.